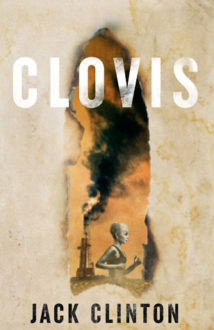 Clovis
A forthcoming debut eco-novel, by award-winning author Jack Clinton
Trapped in the orbit of the buttes and a black obsidian Clovis, Hanna is sure there's nothing romantic about her hot and dusty job as an archeologist in the cultural and real desert. As she negotiates the misogyny of this no-woman's-land, she's on the move to evade physical and spiritual abuse at the hands of oil-field boys, and guard the damaged and angelic Paul. She's vegetarian in a fast food wasteland and a transcendentalist who can't quite catch the wave of nothingness. Her clan of fellow archeologists tries to keep her from harm, but everything she truly needs lies outside the aegis of their reach.
Clinton's novel explores the possible history of the Clovis people and their apocalyptic demise at the hands of their own elegant invention, the Clovis Point. The relevance of the eclipsed culture to the precarious balance of our own clouds the intense joys the characters feel as they navigate the wealth of the natural world.
Cloviscasts an eye across the vast, empty lands of the Western American basins where the endless clamor of petroleum developments rings tirelessly. Told from the point of view of a working crew of archeological contractors who labor to save endangered artefacts from the churning machinations of the CanAm gas pipeline, Clovis bears witness to the quiet environmental usurpation of American public lands.
Clinton's novel is an artful literary response to the unutterable and largely ignored decline of our collective natural wealth. Clinton mixes a sardonic misanthropy of our own current environmental course with jubilation, and the joy of love, the celebration of the human condition, and the intense passion of being immersed in the natural world.
Clovis will continue Harvard Square Editions' tradition of promoting fiction that furthers civil and environmental causes in a market that would rather leave such voices unheard.
"Clovis is a lyrical tale set in the New West where the interests of oil companies clash with the need to preserve and record the artifacts left by long gone inhabitants of the land. In this novel, Hanna and her archeological compatriots are hired by CanAm Oil Company to assess the impact of an oil line on historical native sites. The complex relationships between her and her co-workers fascinate. The lush descriptions of the natural beauty she encounters are seductive. This is truly a wonderful look into the unique personality of people who choose to make a living doing field work. They are a breed apart. An excellent read that keeps you engaged from the beginning."
—Big Sky Independent Press, 4.5/5 Stars
About the Author

Jack Clinton is the winner of the The Neltje Blanchan Award, for which $1,000, is given for the best poetry, fiction, creative nonfiction, or script which is informed by a relationship with the natural world.