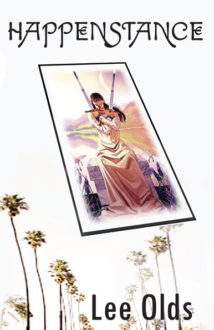 Happenstance, by Lee Olds
Forthcoming
The San Francisco Examiner (1986) has said of Mr. Olds' second book, The Bilge that "his ability to integrate a mathematician's sense of presence with a philosopher's metaphysical pathos is as impressive as it is stimulating." He has not lost his touch.
While stricken by the thought of society's contemporary 'death wish' Olds sets his novel, Happenstance in the Haight Ashbury during the 'Summer of Love' where a moral rent in man's universal nature appears to have taken place in the form of enlightenment, peace; not war, love; not hate. But were man's ineptitudes just dressed in tie-dyed shirts and period dresses? Did all the drugs, philosophizing, and meditating, achieve a spiritual renaissance of sorts? Was or is there any sort of lasting enlightenment for a struggling mankind on earth? What went wrong? Were the ideals themselves faulty or if viable, was it man's inability to adhere to them that led him back to his old path of destruction and war. As the German philosopher Hegel pointed out, 'the only thing man has learned from history is that he's learned nothing from history'. Isn't this what he meant?


Praise for Happenstance


"Lee Olds' Happenstance, jumps from history into the present depicting characters that show a depth of philosophy, which reminds me of Heraclitus, Leo Tolstoy, Fyodor Dostoyevsky, Albert Camus, and DH Lawrence. His characters seem to be thrown into a world of random coincidence facing the sorrows and tribulations of life without a clear meaning as to why the world is the way it is. Any hope we have, Mr. Olds suggests, lies in selflessness and doubt."
– Josh Horowitz, Ph.D. History (University of British Columbia)


"Happenstance is an epic journey into the turbulent sixties in San Francisco. Through the lives of characters with contrasting value systems, the author weaves a fascinating tale of wealth, greed, turmoil, rebellion, and disillusionment. As the characters grapple with their demons, the author compels readers to examine their own convictions and beliefs. Although the story takes readers back to the sixties, its message is timeless. This book is a must read!"
– M. Reagan, English instructor
About the Author
Lee Olds' first book, 'Too Much Sun', sold 250K copies in the 60's and was compared to 'Catcher in the Rye' and 'On the Road'. A critically acclaimed author with books published in the U.K. as well as the U.S. his new novel, 'Happenstance' is hopefully a sign for the future. He is currently working on another novel set in Mexico.
He has an B.A. and an M.A. In philosophy.