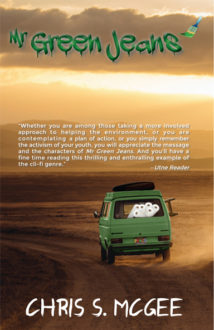 Mr Green Jeans
Chris McGee's debut eco-novel, Mr. Green Jeans, takes you on a climate change, charged adventure. A middle-aged married couple throws caution to the wind to help the planet. Traveling from the Midwest to Southwest in a converted VW van, they clandestinely exhibit their earth messages. Their actions soon become viral, and a following erupts. But there are those who want to shut them down, and with that, Jack and Lake Creek's lives change forever.
Meet the Characters
Jack: "Lake and I are going to paste that message around the country in as many places as we can. Ten years ago, we couldn't have hoped to have the impact we can today, with the Internet and social media…"
Lake: "We just can't sit still, and we're grateful, Lillian, for our station in life to have the means to do this."
Jack's mom, Lillian: "I wish you could have waited until I was dead."
Praise for Mr Green Jeans
"This is the first in a series of books planned by the author to feature Jack, Lake and friends. I, for one, look forward to reading the continuing journey of these eco-stewards. Whether you are among those taking a more involved approach to helping the environment, or you are contemplating a plan of action, or you simply remember the activism of your youth, you will appreciate the message and the characters of Mr Green Jeans. And you'll have a fine time reading this thrilling and enthralling example of the cli-fi genre."
"Exceptionally well written from beginning to end, Mr Green Jeans is all the more impressive when considering that it is author Chris McGee's debut venture as an eco-novelist. Mr Green Jeans is very highly recommended, especially to the attention of environmental activists, and will make an enduringly popular addition to community library General Fiction collections."
—John Taylor, Midwest Book Review
"Mr Green Jeans" is a green book with a serious message: Protect the Earth, safeguard its treasures. Chris McGee has written a wake up call for the world, and it deserves a wide audience. He's a natural-born storyteller, writes seamlessly, knows how to hook his readers. He hooked me, and I am looking forward to more in the series.
—DAN BLOOM, THE CLI-FI REPORT cli-fi.net
"A fun read that doubles as a tool to spur activism"
"If you're stuck in a mid-life slump, this, well, maybe won't solve everything, but it will get you thinking."
"The novel of a lifetime‒especially for anyone who considers herself/himself an environmental activist."
"An entertaining, thought-provoking romp that will have anyone who thinks about their impact on the planet reconsidering their choices, big and small."
—Douglas Fischer, Director, Environmental Health Sciences
"Mr. Green Jeans gives voice to the frustrations that beleaguer the minds of those who can't escape that whisper of planetary responsibility."
—Brien Durham, Educator
More Interviews and related press:
LA artist Zachary Cole Fernandez has started executing protest installation art as foreseen in Mr Green Jeans
Vox Magazine on Chris McGee's new novel
Eco-fiction.com Green Jeans exposé
About the Author
Chris McGee is a writer whose passion for environment keeps him awake at night and awakens him in the morning. He understands the dire, environmental plight we currently face. Mr. Green Jeans is the first book in a series with Jack and Lake Creek, steadfast eco-stewards.