TITLE 13
A Novel
by Michael A. Ferro
Forthcoming in 2018
In his twenties and well-educated, Heald Brown might be responsible for the loss of thirty-seven highly classified TITLE 13 government documents, and has perhaps hopelessly lost himself, too.
TITLE 13 combines the sobering realities of contemporary life with elements of dark humor and unconventional love. Heald Brown is a fractured young man, living in the Windy City and looking to harness the promise of the Mecca of the Midwest. He scrabbles with government hoopla, mental illness and addiction, marooned love, and feelings of a discombobulated life that he had once imagined would be so different.
Teetering anxiously between despondency and bombastic sarcasm, he silently clings to his quixotic roots, as he works at the U.S. Department of Commerce's Chicago Regional Census Center, busily prepping the 2010 Decennial Census, when he is targeted for losing the TITLE 13 government documents. Indeed, having haphazardly moving from Detroit to Chicago during the crippling recession, Heald has certainly lost plenty over the past few years, no doubt due to the frightening course of his alcoholism at such a young age.
As Heald struggles to come to terms with what is at stake, including a budding romance within the office and an emotional confrontation with his concerned family and dying grandmother, will he succumb to the devastating effects of his drinking? Reality at home and work digress into farcical absurdity and arcane psychological revelation, both hilarious and redoubtable in nature, as he seeks the thirty-seven pages of secrets that must be somewhere in the vibrant city. The missing TITLE 13 hangs over each character like a specter, interweaving a series of plot points that ultimately beg the question: Is it the documents that Heald has lost, or is it his own cardinal virtue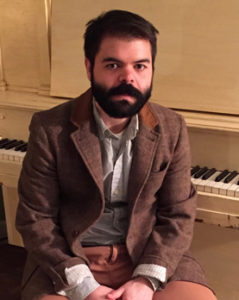 About the Author
Born and Bred in Metro Detroit, Michael A. Ferro's work has been featured in various online and print publications. He was awarded the Jim Cash Creative Writing Award for Fiction. Michael's debut novel, TITLE 13, is forthcoming from Harvard Square Editions in 2018. Additional writing and information can be found at www.michaelaferro.com and @MichaelFerro. After traveling, working, and writing throughout the Midwest, Michael currently resides in rural Ann Arbor, Michigan.