Augments of Change
by Kelvin Christopher James
Kelvin Christopher James gives a glimpse of the deterioration of world affairs and climatic conditions through the lives of a few people: a diverse group of billionaires, a family of southern Rednecks, a Black lawyer, an attractive female manipulator, and a trio of teenagers. Their voices tell this rollicking, rambunctious tale of contemporary circumstances gone awry—of the consequence of rich peoples' greed and selfishness; of a scrambling Missouri family forced from their homestead as a result of fracking that moves to New York where they have to adjust and acquire new ways of living; of the enormous influence of billionaire visions; and of the subtle workings of women's soft power to make 'things' better.
Then just when Change takes a positive stance, there comes an invasive force from deep space! Not the big-headed, odd-colored, funny-eyed creatures of our comic-booked expectations, but . . .
Aha! Not so fast. Telling would be messing with well-deserved anticipation, wouldn't it?
After the space invaders, the exciting action only kicks up another notch. So be in good cheer, for all of it in fluid prose, Augments of Change offers up romance, adventure, thrills of gain, pain of loss, horror and rare beauty, true science practice and actual innovation, breathless speculations, and always, terrific entertainment.
Read an excerpt at Eco-fiction.com
Augments of Change

by Kelvin Christopher James
Release date: June 15, 2016
Genre: cli-fi, Suspense
Price: $22.95
ISBN: 978-1-941861-16-5
"With this novel, Kelvin Christopher James enters the world of cli-fi and touches on themes that, post-COP21's climate talks in Paris in late 2015, are current and vital."
—Dan Bloom, editor, The Cli-Fi Report
"Augments of Change weaves a narrative which predicts the problems of our lifestyle on the environment and society, and offers solutions, which don't always get the attention they deserve. As a science teacher, I find what-ifs? a fascinating entry point to start the multitude of consequences that are actions may and already do have.
—David Sadoff, 7th grade The Way Things Work Teacher @ Quest 2 Learn
Praise for Kelvin's Jumping Ship and Other Stories:
"A warm and gifted raconteur."
Praise for A Fling for a Demon Lover:
"James (Fling with a Demon Lover) turns a love letter to Trinidad into this stylish literary novel filled with sensuous prose and colorful setting."
Praise for Secrets, A novel:
"Incantatory . . . the finest novel to come out of the Caribbean
experience since V.S. Naipaul's A House for Mr. Biswas."
—Washington Post
"James (Secrets; A Fling with a Demon Lover) introduces readers to the crazy quilt of ethnicities, cultures, and religions that make up the island of Trinidad. He writes in a Trinidadian lilt that is catchy, charming, and much like calypso. Following Vivion around New York is like trying to do the limbo. How low can he go without hitting the ground? And observing the group of smart capable women who keep Vivion on track is a salute to feminism at its most delightful. This is a romance with life well worth reading."
—Library Journal, Andrea Kempf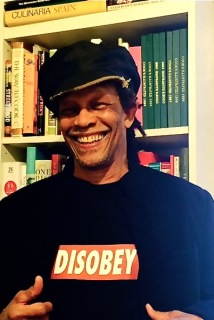 About the Author
Kelvin Christopher James has been the recipient of a New York Foundation for the Arts Fellowship in Fiction and a National Endowment for the Arts Fellowship in Literature. He is the critically-acclaimed author of five novels: Secrets, a Novel (Villard & Vintage & KDP Indie), Fling with a Demon Lover (HarperCollins & KDP Indie), The Sorcerer's Drum, Web of Freedom, Mooch, the Meek (KDP Indies), and short story collections Jumping Ship and other stories (Villard & KDP Indie), City Lives, Crazy Loves, Backcountry Tales (KDP Indies).