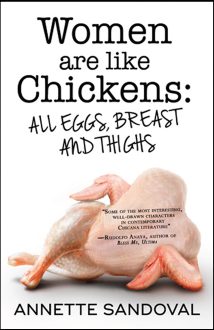 Women Are Like Chickens:
All Eggs, Breast and Thighs
by Annette Sandoval
Forthcoming
This is a story of food. Mexican food. It is also the tale of two sisters, their family restaurant, and their circle of friends. Set against the tapestry of San Francisco's traditionally Latino Mission district, the novel weaves through the lives of a set of unlikely friends.
Alex has been running the family restaurant since her father's fatal freak accident while still in her teens. Where Alex thrives in the restaurant's front rooms, her sister, Leah, prefers to work in the kitchen. Far away from the loud and unpredictable public.
Tessa can't wait to go to Stanford and disassociate herself from the people of the Mish and their notions, old-fashioned to insane. And then there's Dulce, a precocious boy trapped in a woman's body. She even buys most of her clothes at the boys' department of K-mart. She claims they have the most durable socks.
Although subject to cultural expectations and limitations, misogyny, and racism — not to mention the fashion trends of puffy hair, fuchsia makeup, and parachute pants — Chickens encompasses all of the comical mishaps and unsettled mayhem of life in the early 80's as each character defines her own unique identity.
Praise for Women Are Like Chickens: All Eggs, Breast and Thighs
"Reading Women are like Chickens is like enjoying a mouth-watering plate of enchiladas with all the trimmings: guacamole, salsa and chips, hot tamales, chile colorado, albondiga soup, a green salad and a refreshing drink. The novel's heart is a Mexican restaurant in the Mission Barrio of San Francisco. Around the café revolve four young women, whom I found to be some of the most interesting, well-drawn characters in contemporary Chicana literature. This rite of passage story explores the lives of these women as each grows into young womanhood. I recommend it highly. I am sure it will garner many awards. It shines."
—Rudolfo Anaya, author of Bless Me, Ultima
"Annette Sandoval's wise and whimsical novel of female friendship and empowerment strikes universal chords that will resonate with all readers."
—Michael Nava, author of The City of Palaces
About the Author
Annette Sandoval's writing is tightly bound to her experience as a Mexican-American. The youngest of five children, she began life in the barrio neighborhoods of Santa Ana, California. Annette's mother, Wanting one of her children to have an "American" name, named Annette after a Mouseketeer. Annette worked at Disneyland while in her teens. She was forced to wear a paper hat and a name tag. When people asked if Annette Funichello was her mother, she would say, "Yes."
Her parents were both born in the Mexican state of Jalisco. Her father, Manuel, worked as a migrant worker and later as a janitor at a convent, where he was sponsored for green card status. After securing work and papers he sent for his fifteen-year-old bride, Felicitas.
At 21, Annette moved to San Francisco. She spent the next decade backpacking around the world, touring nearly every continent on her own.
She is the author of The Directory of Saints (Dutton/Penguin), which appeared in hardback in 1996. Her second book, Homegrown Healing: Traditional Home Remedies from Mexico (Putnam/Berkely), published in 1998, is one of the first modern works preserving this rich oral tradition. Her novel, Spitfire (Thomas & Mercer) 2012, is about an office drone who suspects her boss of being a serial killer. If that's not scary enough, he's got a crush on her! Her fourth child is named, Women Are Like Chickens: All Eggs, Breast and Thighs.
Annette lives in Newport, Rhode Island with Pip and their two rescue dogs.