The Road Not Taken
by Susan Rubin
Request a review copy of The Road Not Taken, by Susan Rubin
This is the story of a woman who is suddenly widowed at 50. Left with money but no direction to her life, she moves back to the West Village where she grew up. She is deep in transition from suburban housewife to living in the big city with a child from whom she is emotionally detached when she meets a woman who appears to be her identical twin. The woman is in fact, a member of the Lost: a group of 100 fully formed people dropped off on earth as it cooled down – they have lived on the planet as it developed the many species and geography of today.
The Lost show her the myriad dimensions of Time and Space, taking her to mythic lands: ancient Egypt as well as very real places from the past, Weimar Germany. They show her planets without inhabitants, and introduce her to loved ones she has lost to death. Having casual affairs with Osiris of Egypt, being raped by his brother, Set, finding a lover among the Lost, she lives many truths that are new to her.They walk with her into a painting of a house in Arles and meets Vincent Van Gogh. In her friendship with "Vincent" she learns who she needs to become.
But it is her friendship with Vincent that drives her deeper into an exploration of the world. Vincent grieves for his paintings – his poetry, heartbroken to discover they have been sold to rich people for huge sums of money. Deborah (our protagonist's new name) joins with painters of the 19th century who can make exact copies of Vincent's paintings – the ones that sit in back bedrooms of the ultra-rich. Berthe Morisot, Monet, Matisse and Otto Dix join in the project until all of Vincent's high jacked paintings have been recreated. Then Deborah calls on her mother, who is dead, but who was a fundraiser and organizer in her lifetime.
Together with her Lost alter ego, now called Vita, the three of them scheme successfully to steal all of Vincent's paintings and replace them with unimpeachable copies. In the course of this process, Vincent encourages Deborah to find her own talent, and her Contract with Creation: things she has never sought. As the story unfolds, Deborah must figure out what she did with the first half of her life, why she never attached to any real study or creative endeavor, and what she can do now to walk The Road Not Taken.
"Playwright Rubin's debut novel is a complex story that uses science fiction as a literary device, like Vonnegut did in Slaughterhouse-Five…. Like the poem it's named for, this story is the re-framing of Deborah's past life in the context of her current one, a kind of coming-of-age story for a woman entering mid-life with nothing to hold her back from what she might become."
"The compelling story, told with effortless grace, of a suburban woman driven to become a warrior, a hero, a priestess."
—Ms Magazine
"Do the creatures of Earth have enough ability to learn to be nonviolent yet still artistically creative so our planet can be saved? Only Deborah can judge. With its mishmash of Freudian theory, Egyptian mythology, self-assured characters, and meandering plot, this book is mostly for fans of New Age fiction."
"An inherently and absolutely fascinating science fiction novel by an author with a genuine flair for original and the commendable ability to hold the reader's fully entertained attention from first page to last, "The Road Not Taken" by Susan Rubin is an extraordinary treat for all dedicated science fiction fans and unreservedly recommended for community library Science Fiction collections."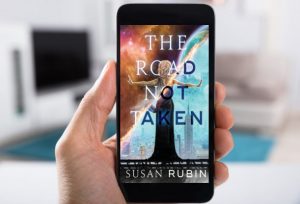 "Susan Rubin's The Road Not Taken offers a magical tale of transformation and joy. A pleasure to read."
— Alicia Hoge Adams, Artistic Director, Bootleg Theater, Hollywood
"The Road Not Taken by Susan Rubin is a unique work of magical realism. It is filled with fantastic imagery, irony, and amazing ideas. This book sits next to Isabelle Allende and Neil Gaiman on my reading table. If you want to take a unique journey, filled with humor, fantastic imagery, ideas, and irony, grab a copy."
— Luisah Teish, author, Jambalaya
In the News
Podcast: Dr. D's Social Network talks to Susan Rubin, author of The Road Not Taken
Ms. Magazine Article: "Susan Rubin Wants More Women to Explore The Road Not Taken"
BookPleasures.com Interview: "In Conversation With Playwright & Novelist Susan Rubin"
JB's Bookworms Brandy Mulder Interviews Susan Rubin
Blog posts at SusanRubinWriter.com
About the Author
Rubin's writing talents range broad and deep: her Funny or Die sketches have survived to amuse readers for nearly a decade. In contrast, Rubin has written over two dozen documentaries that deal in the unfunny issues facing women worldwide: Domestic Violence, Forced Child Marriage, Untested Rape kits accumulating in police evidence rooms by the tens of thousands. In each documentary, Rubin has used her skill, empathy, and compassion to render these darkest of topics into accessible films distributed to tens of thousands of college classrooms, to educate young people about the gravity of the situation for women in the USA and worldwide.
As a playwright, Rubin has been the recipient of 20 years of Los Angeles County Arts Commission Grants and Los Angeles Cultural Affairs Department Grants. She also was honored with a six-year residency at the prestigious Los Angeles Theatre Center.
Her plays have been seen at New York Theatre Workshop, Baltimore Cen-ter Stage, and at every major 99 seat theatre in Los Angeles including co-productions with Bootleg Theatre, Circle X, Skylight Theatre to name a few. She is the recipient of Garland, Ovation and LA Weekly Awards for her plays and the critical response has been exceptional, for example:
"In its mythological themes, modernist irony and imaginative visual styling, 'Liana and Ben' is something of a companion piece to Circle X's memorable 2006 production of Sarah Ruhl's 'Eurydice'."

Nineteenth century women are committed
to an insane asylum
 for reasons that have nothing to do with their sanity
When New York physician, Adam Fletcher takes the position of medical doctor at the Illinois State Hospital for the Insane in 1857, he quickly realizes the asylum is not a place of healing. His compassion for the women under his care, and his shock at the perversity of their treatment propel him into actions no one could have predicted. Inspired by true events, For Their Own Good reveals the murky, often terrifying world of nineteenth century insane asylums. Touted as havens for patients receiving innovative treatments, the hospitals confined society's powerless, whether insane or not.
Events
Bradette Michel will be presenting a literary workshop, part of the Coral Springs Festival of the Arts, at 11:30 am, Thursday, March 17. The program will be located at the Coral Springs Center for Performing Arts, Room A & B, 2855 Coral Springs Drive, Coral Springs, FL. For more information about the workshops and the other authors go to http://www.csfoa.com/literary-program.html
Bradette Michel will discuss her debut novel, For Their Own Good at the Jacksonville Public Library, 201 W. College Ave., Jacksonville, IL 62650 on September 10 at 7 p.m.
Book signing on September 11, 5 – 7 pm at Our Town Books, 64 East Central Park Plaza, Jacksonville, IL 62650.
Quincy Public Library on Saturday, September 12, 2-3 p.m.
Discussion at Quincy Books, 3:30-5:30 pm, 3382 Quincy Mall, Quincy, IL 62301
Michel will discuss manuscript critiquing with the Quincy Writers Guild on Monday, September 14, 6:30 pm at John Wood Community College.
Bradette Michel will discuss her debut novel, For Their Own Good at the Sunrise Dan Pearl Public Library 10500 W. Oakland Park Blvd, Sunrise, FL 33351 on Tuesday, September 29, 6-7 p.m.
Main Library, 100 S. Andrews Avenue, Fort Lauderdale, FL 33301on Tuesday, October 13, 6-7 p.m.
Reviews
"In the end what is presented isn't your usual one-dimensional portrait of abuse, but a social commentary that uses the asylum environment to pinpoint attitudes, beliefs, and rationales behind mental illness treatments and socially acceptable behaviors: a powerful survey that brings physician and patient perspectives to life and leads Adam on a journey into strange worlds. Gripping and heart-wrenching, For Their Own Good is a pick for any who want both a social and psychological observational piece about asylum life and women's subjugation."
—D. Donovan, Senior Book Reviewer, Midwest Book Review
"Like most excellent historical fiction, Michel's novel uses real events of the times as a backdrop for understanding the struggles that her characters present. The chilling words of the physician who forces his treatment on powerless women is juxtaposed with their often heartbreaking responses. Michel's compassionate telling of women's stories made me want to reach out and pull her characters into a world where their voices could be heard and their power restored."
—Maxine Harris, PhD, Author, Women of the Asylum
"The brilliant presentation of a fictionalized true epoch in the history of American 'therapeutic' intervention holds our attention from first page to last.  As a physician, woman, and lover of great stories, I highly recommend For Their Own Good."
—R. S. Lipkind, M.D.
About the Author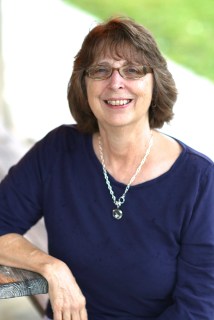 Like most of her characters, Bradette Michel grew up in a small town in the Midwest. She loves to read and write stories about people who overcome forces that try to control them, probably because she has a bit of an authority problem.
Bradette flirted with writing fiction for years, creating a rogue short story now and then while trying to make a living. She didn't realize it at the time, but as a counselor, teacher, and trainer she was learning a lot about human behavior, which she now connects with her dark imagination to create plots and characters. Oh, yes, her degrees in psychology and human development counseling help too.
Her decision to tell stories unbound by the truth has resulted in the upcoming publication of her debut novel, For Their Own Good, which won second in the Florida Writers Association's 2013 Royal Palm Literary Awards historical fiction category. Her short story, The Last Ride, was published in FWA's 2012 Short Story Collection #4—My Wheels. She won second place in FWA's 2012 Royal Palm Literary Awards novella category for Solitary. A published non-fiction author of Supervising Young Offenders, she has authored several online courses.
Bradette and her husband Mike live in south Florida.