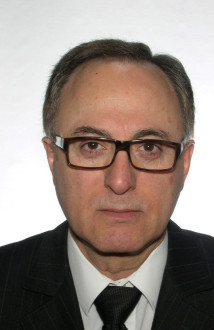 Ruben Varda's humorous story 'Consultation' about a celestial chemistry class was first published in the HSE anthology Voice from the Planet, later reprinted in Cambridge Book Review, and was lauded by British reviewer The Truth about Books, which named Planet 'Book of the Month'.
Ruben was born in Yerevan, the capital of Soviet Armenia. He received his PhD in physics from the Moscow Lomonosov University and then taught and conducted research in Armenia at Yerevan University and the Academy of Sciences.
In 1992, he moved to Denmark and in 1996 was posted by the Danish Ministry of Research in Brussels. Since then he has lived in the capital of Europe, where he manages R&D projects involving EU-Russian cooperation in nanoelectronics.
In 2005-2006 he wrote in Russian and later published in Moscow his first fantasy novel "The Girl with a Lute". Ruben is now writing his second novel.