The Landmark Prize for Fiction finalist
Invictus, by L.L. Holt
A timely novel on how the young musician overcame prejudice to become an international phenomenon as the entire world celebrates the 250th anniversary of Ludwig van Beethoven's birth
L.L. Holt talks about her forthcoming novel, INVICTUS, on Joan Goldstein's community TV interview show, "Backstory," March 19, 2019. Hosted by sociologist and educator Joan Goldstein, the program will explore current issues of the day, both national and local, with guests invited for their expertise or particular viewpoints. One of the largest public producers of original content in New Jersey, Princeton Community Television (also known as Princeton TV and TV30) is a Public, educational, and government access (PEG) cable TV channel in Princeton, New Jersey. Mon. at 7:00 am, Wed. at 8:30 pm and Sun. at 5:30 p.m., the station is carried on Comcast channel 30 and Verizon FIOS channel 45 in the Princeton, New Jersey area.
The year was 1770, the place, Bonn, Germany. A drunken father took his first look at his baby's dark complexion and lost his temper. The mother insisted the child was his. This was the beginning of a youth filled with anxiety, prejudice, and uncertainty for young Luis. We know him as Beethoven.
Descriptions by neighbors and friends often begin, "He was black," meaning darker than others, and therefore subject to discrimination in the German north. Was Beethoven black in contemporary terms? There is little doubt that the child, perhaps with Moorish roots, who grew up under the thumb of a domineering, alcoholic father, did not look like other members of his family, nor even his community. We may never know why.
Invictus, a new novel by L.L. Holt published by Harvard Square Editions, takes Beethoven's otherness as a point of departure as it explores the child's journey from birth to a series of setbacks in his 16th year. But the obstacles and catastrophes that the resilient child navigates are not the final word: we know how this story will end.
Invictus is woven through with several other themes rooted in the revolutionary age in which the boy lived. This was an age in which European scientists were exploring the notion of race and reason. While young Beethoven (known as "Luis" in this story) was growing up, a scientific experiment was taking place in Kassel, less than 200 miles away, in which Africans were kept without their permission and subjected to tests. Most eventually died in the cold northern climate. Yet, at the same time, there were other scientists who asserted that race as we think of it did not exist, and that truly, as Beethoven was to declare through Schiller's Ode to Joy late in his life, "All men are brothers."
Another theme is the rise and fall of the Illuminati, which originated in Germany and spread north. Beethoven's childhood teacher, Christian Neefe (NAY fuh), was the head of the local Illuminati chapter, soon to be outlawed, with death a penalty for membership. Many believe the great composer was a Mason and Illuminati member, a position this book upholds and explores in scenes filled with intrigue and adventure.
Luis falls in love, gains a champion, and is sent to Vienna to expand his gifts in this fictionalized view of his early life seldom previously explored, but must return to parochial Bonn when his mother, the only person who truly loved him, is on the brink of death. She dies, his sister dies, his father sinks further into alcoholism. Yet, something stirs within his heart. And from the other side of history, we know his dreams have not been in vain.
Praise for Invictus
"This book is spot on to the contemporary issues of today's world. A blend of historic fact and fiction, Invictus tackles many of the big issues of our time: bigotry, bullying, and prejudice. The Beethoven we thought we knew is a pale shadow of the genius he became. Adversity helped ignite his extraordinary gifts, inspiring each of us to reach beyond obstacles to embrace our dreams. I loved this book and its message for today of courage, determination, perseverance, and hope."
—Don Browne, Executive VP NBC Network News, ret., President of NBC's Telemundo Network, ret.

"An absorbing novel about the young Beethoven and the circumstances that shaped his musical career. Especially interesting because it takes seriously the implications of 18th century racism and rumors about African ancestry in Beethoven's family."
—K.M. Reeds, historian of biology and medicine
"L.L. Holt captures an exciting time in history when revolution was in the air, and an intense debate about race and equality raged in universities, salons, and secret societies. Well-written and engaging."
—Lina Genovesi, Ph.D., J.D.
"In Invictus, Holt makes precise references to Joseph Bologne, aka Le Chevalier de Saint-Georges, whose life as an 18th century Black composer and swordsman in Western Europe is an important reminder that sometimes you have to excel in many different fields in order to survive. And still, the accomplishments can and will speak for themselves decades, centuries after the fact."
—Le Chevalier de Saint Georges Facebook page administrator
"Invictus embodies the spirit of the Age of Revolution in this tale of a young boy breaking free from obstacles of poverty and prejudice."
—Kairy Koshoeva, concert pianist
About The Black Spaniard by L.L. Holt:
In her wonderful new novel, L.L. Holt captures the dynamic magic of Beethoven and his music.  She is able to recreate the original sounds of Beethoven's fingers on the piano as well as the nature of the characters who surrounded him in his climb to fame as one of the most original composers.
"This novel reimagines the surprising backstory behind Beethoven's early years, bringing its scenes to life as only fiction can. The result makes for intriguing reading."
—Winifred Hughes, author of The Maniac in the Cellar: Sensation Novels of the 1860's
"Beethoven is a unique character and this book captures that quality. Great reading and informative background offer an experience that is both entertaining and educational. Ms. Holt deserves great accolades for this excellent novel on a highly engaging perspective of musical history."
–Dr. David Ryback, author of Beethoven in Love
Top customer reviews from Amazon.com:
5.0 out of 5 stars Enjoyable for readers of all ages!
"A fresh, entertaining view of Beethoven for young readers and adults alike. Told in semifictional style, it focus largely on his early triumphs in his twenties as the champion piano virtuoso of Vienna's music scene. The 'black Spaniard' refers to Beethoven himself for his dark complexion and black hair. He's called "Luis" instead of the German "Ludwig," and he's fairly likeable, his famous tantrums are toned down. We follow him through the onset of his tragic deafness and the composing of his heroic Third Symphony. In this story, the black Spaniard is the real hero."
–musiclady
5.0 out of 5 stars A gripping tale of arrogance, dissolution, and redemption
"A gripping tale that turns the tables on our expectations about Beethoven. What, if as so many believe, he was Black? What if he was a revolutionary in the Illuminati and Freemasonry? What if the Immortal Beloved was someone we never expected? The novel blends factual information with flights of imagination and fancy to present a compelling portrait of the composer during a dozen years in which he first arrived in Vienna and learned he was losing his hearing at an alarming rate. An inspiring story for all who seek to overcome prejudice and oppression and never to surrender their ideals." 
5.0 out of 5 stars Definitely worth the read and comes from a great small press
"Holt's book envisions the life of Beethoven in a way that I couldn't have imagined myself. Definitely worth the read and comes from a great small press."
More Novels by L.L. Holt:
The Black Spaniard (2016)
Written as Simone Marnier:
White Tiger, Green Dragon (2000)
Black Tortoise, Red Raven (2006)
Tigre Blanco, Dragón Verde (2007)
About the Author
L.L. Holt is a Humanities professor and author of The Black Spaniard, a novel about music (Unsolicited Press, 2016). She has a doctorate in Arts and Letters from Drew University and is a classical music critic and writer for the Broad Street Review in Philadelphia, Pa., and the Princeton Packet. Following a successful career in communications, she is devoting herself to writing about the inspiring power of music as well as topics relating to the new fascism, religious tolerance, and spirituality. Holt lives in New Jersey.
One-String Guitar, a novel about the Rwandan
Genocide, eerily comes to life following the recent
tortures and killings in Burundi
One-String Guitar's central topic of resiliency after the Rwandan Genocide hits center stage with the current killings in Burundi Following President Nkurinziza seeking third bid.
Ten years after surviving the 1994 Rwandan genocide, Francine tries to rebuild her life in Upstate New York where she befriends Elbe, the medical interpreter assigned to her—an adoptee in search of her roots on the Pine Ridge reservation in South Dakota. Against the backdrop of the harrowing 100-day massacres of one million lives in Kigali and the revolution of the Lakota in 1972 on the res, One-String Guitar weaves a narrative of resilience, healing and ultimately, love.
The UN Commission on Human Rights recently announced that 230,000 in Burundi have sought refuge in other countries due to the killings, tortures, rapes and enforced disappearances in the last year.
"When I wrote One-String Guitar, I never thought ethnic cleansing would be taking place again so soon," said de Vestel the author One-String Guitar.
The novel's title—a reference to August Wilson's Seven Guitars in which Hedley plucks a single string instrument to connect with the memory of his mother—urges us all to remain connected to the wisdom of our ancestors in order to avoid repeating the worst chapters of our history.
"But the reality is that there is always a genocide going on somewhere on our planet at any given moment," de Vestel added.
Praise for One String Guitar
"Ten years after surviving the 1994 Rwandan genocide, Francine tries to rebuild her life in Upstate New York where she befriends Elbe, the medical interpreter assigned to her — an adoptee in search of her roots on the Pine Ridge reservation in South Dakota. Against the backdrop of the harrowing 100-day massacres of one million lives in Kigali and the revolution of the Lakota in 1972 on the reservation, One-String Guitar by writer, performer and professor Mona de Vestl deftly weaves a narrative of resilience, healing and ultimately, love. It is interesting to note that the novel's title is a reference to August Wilson's Seven Guitars in which Hedley plucks a single string instrument to connect with the memory of his mother — urging us all to remain connected to the wisdom of our ancestors in order to avoid repeating the worst chapters of our history. While unreservedly recommended for both community and academic library Contemporary Literary Fiction collections, it should be noted for personal reading lists that One-String Guitar is also available in a Kindle format ($9.99)."
"One String Guitar (Harvard Square Editions, 2016) weaves the histories of the Rwandan genocide and the 1973 Siege at Wounded Knee through two women's stories—Francine, a survivor of the genocide who has resettled in upstate New York; and her medical interpreter, Elbe, who was born on a reservation and adopted by a white family. One-String Guitar follows their journeys to come to terms with their personal and generational trauma.
"Akin to Leslie Marmon Silko's weaving, One-String Guitar is at once a personal, political and poetic novel, that draws the reader into lives beyond the borders of geography, culture, and even biology. de Vestel is a skilled storyteller, traversing multiple landscapes, and contending with the charged political consequences of genocide and complex intersections of class, race and queer identity. Her treatment of relationships is reminiscent of Maggie Nelson's The Argonauts: sensitive, revealing and finely-attuned. You won't want to put One-String Guitar down."
—Amy King, Author of The Missing Museum
"One String Guitar is a revelation. It's also a novel you should give yourself plenty of time to read so that you can savor its many depths, both personal and political. Earlier in her career, Mona de Vestel was a spoken word poet and performance artist of magnetic power, all her incandescence is right there on the page where you have been waiting for it all your life."
—Nancy Keefe Rhodes, arts writer & editor
"Congratulations are in order, to Mona for the achievement, to the reader for the journey at hand. Here you will find a compelling narrative of grace rare in an inaugural work. This is a meticulously crafted text that still somehow manages to sprawl across characters, cultures, continents, and an impressive array of emotional registers. It is a sophisticated work, polished, crafted, deeply layered while never forgetting what makes literature literature – it is a good read, reeking of authority. The text facilitates unique character intimacy before reforging it in the horrific genocides of Rwanda and the First Nations without ever sliding into easy sentiment or sensationalism. This is a journey both disturbing and revelatory, and ultimately beautiful as only meaningful literature can be. This inaugural work establishes Mona de Vestel as a contender and true voice. This one she can be proud of. Forever."
—novelist Arthur Flowers
"One String Guitar tells stories so embedded in sensations and rhythms of everyday consciousness that when it takes us across the boundaries of identities and cultures, we travel there with open hearts and minds.
From the Pine Ridge Reservation of South Dakota, to the rust-belt Central New York town that becomes a refuge from the genocide in Rwanda, to the borderland of transgender identity, we are taken on a journey of pain but also of hope and love for these characters in crisis.
de Vestel is an astute interpreter of historical trauma, addiction, and mental illness who conveys an understanding of home and the notion of a socially-constructed family from the perspective of the displaced.
—Rebecca Garden, Associate Professor of Bioethics & Humanities, Upstate Medical University
Interview with Mona de Vestel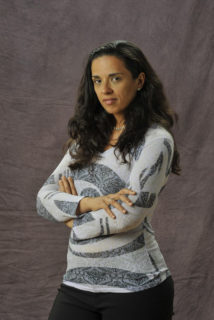 About the Author
Of mixed Belgian and African descent, Mona grew up in Brussels and later moved to the United States where she taught writing at the State University of New York (Oswego & Utica). Her memoir King Leopold's Daughter is a finalist for Restless Books' Immigrant Writing Prize. Her work explores the role of the 'other' in the marginalized voices of our world. She is currently at work on Trail of Light, a memoir about her quest for joy, healing, and the magic in her life. Mona now lives in Southern California with her family. For more info about the author, please visit: www.authormona.com
Spiders and flies
Scott Adlerberg's debut novel
An American fugitive in Martinique recovering from a six-hour marriage. A young woman who has a cat for a best friend. A wealthy couple who bicker so much they make solitary life seem irresistible and a yoga-practicing midget with lethal karate skills These are a few of the players at the heart of Spiders and Flies, the story of an abduction gone wrong. Set in the lush sun-drenched tropics, the novel captures the deepest fears and desires of the people drawn into the kidnapper's web. A drama that unfolds with twisty suspense and dark humor, it sheds a skewed light on the notions of family ties, loyalty, deceit, and friendship.
Scott Adlerberg, February, 2019

on the set of

his new book/film TV show,

"Journey Into Darkness"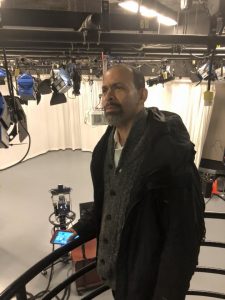 Praise for Spiders and Flies


Spiders and Flies

By Scot Adlerberg
Release date: November 5, 2012
Genre: Psychological Thriller; Noir
Price: $15.95
ISBN: 978-0983321651
"Scott Adlerberg is a terrific storyteller and Spiders and Flies belongs on your bookshelf."
⎯Jason Starr, Anthony Award-winning author of The Craving
"Adlerberg's Paul Raven is that rare kind of character – a predatory schemer we nonetheless can't help but identify with through the many twists and turns this story takes him on. The Martinique setting provides a palpable, sensuous, and vivid atmosphere, making it almost a character itself. I was totally immersed from start to finish."
⎯Larry Dark, Director of The Story Prize
About the Author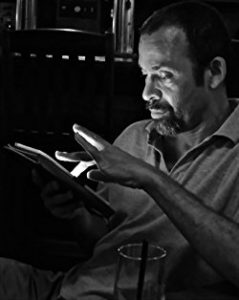 Scott Adlerberg lives in Brooklyn. This Martinique-set crime novel, SPIDERS AND FLIES (Harvard Square Editions, 2012), is his debut novel. Next came the noir/fantasy novella JUNGLE HORSES (2014), followed by the psychological thriller GRAVEYARD LOVE (2016). He is a regular contributor to sites such as Lithub and Criminal Element, and each summer he co-hosts the Word for Word Reel Talks film commentary series in Manhattan.His new novel, JACK WATERS, a historical revenge thriller, is out now from Broken River Books.
In the Land of Eternal Spring
by Alan Howard
A Most Anticipated Small Press Book of 2017!
A poignant love story and dynamic political novel on a period in our history that resonates today
Peace Corps Volunteer Laura Jenson has a lot in common with Peter Franklin, a Fulbright Scholar, whom she meets in Guatemala City in 1963. Both of them are inspired by JFK's call to action for a new foreign policy that would help the poor and promote democracy. What they find, however, is the reality of America's one-dimensional Cold War policies that got us into Vietnam and radicalized a generation. They fall in love as Laura becomes involved in Guatemala's nascent revolutionary movement.
As the political situation in Guatemala erupts, Laura draws Peter into also supporting the revolutionary movement, and they begin working together clandestinely in the city and mountains. The tension builds as the government's security forces close in on them and then trap them in a safe house.
Events
Thursday, June 15th @ 7pm, Launch event/reading/signing, Newtonville Books, 10 Langley Road, Newton Centre, Newton, MA 02459
Wednesday, June 21st @ 7pm, Reading/conversation/signing, Home of Kate Linker and Bernard Tschumi, 227 W 17th St., 6th Floor, New York, NY 10011
Monday, July 17th @ 7pm, Reading/signing, Surf City Ocean Library, 217 S. Central Ave., Surf City, NJ 08008
Wednesday, July 19th @ 1pm, Reading/signing, Beach Haven Library, 247 Beach Avenue, Beach Haven NJ 08008
Praise for In the Land of Eternal Spring
Most Anticipated Small Press Books of 2017: "Set in Guatemala in the 1960s, Howard's novel about politics, idealism, regret and lost love is not only profoundly moving but also timeless in its resonance."
"Vivid and complex, this novel is a portrait of a very specific moment in history that feels just as vital today."
"…Peter Franklin is a Fulbright scholar in Guatemala, conducting a study on the nascent literacy project. Revolution is in the air; the Cold War is escalating, and Peter has fallen hard for Laura Jenson, a Peace Corps volunteer who has become involved with the rebels…..the suffering, abuse, and oppression of the Guatemalan people give the story its emotional heft."
—Booklist
"If Ernest Hemingway had written a novel about the Guatemalan civil war,
it may well have looked like In the Land of Eternal Spring."
"This is a good read in the genre of young rich-world people off in a poor country getting into political trouble. But it's also a touching love story, written from the 50-years-later perspective of a journalist (so we know he survived) filled with nostalgia…. Peter reminded me bit of Jay McInerny's character in Bright Lights Big City: bad boy with a complicated and damaged but salvageable heart. The plot line of events, in this case sex and violence, are realistic but they are the beguiling surface over a strong romantic and sentimental – in a good way – undertow. I liked the scope of this author's skill. 9.0/8.2"
"This novel, so beautifully written and deeply felt, reads like a haunting from a forgotten past. It captures, especially through the vividly rendered characters of its young American idealists and the choices they make, a precise moment when Guatemala—and much of Latin America—seemed balanced between two destinies. It makes you ache to go back in time and change the outcome."
—Francisco Goldman, author of Say Her Name
"Alan Howard's novel about idealism, violence, and love in 1960s Guatemala is timeless in its resonance. The political and the personal are brilliantly intertwined from the wry, sharp-eyed opening to the profoundly moving end."
—Dawn Raffel, author of The Secret Life of Objects
"In the Land of Eternal Spring brings us back to an era, place and U.S. governmental policy involving the covert terrorizing of other peoples. It is an era now long forgotten by some, unknown by others. Alan Howard's way with a story and his evocative prose render this tale believable in every detail, yet larger than life: hard as steel, tender as the wisest love, and once again a terrible premonition. I am immensely grateful for this magnificent novel."
—Margaret Randall, author of Che on My Mind
"A remarkable love story and vivid portrait of the great dilemma of our times, our national priorities and beleaguered world…. I can't remember when a tale so carefully and cleanly crafted, so understated and straightforward, has moved me so deeply at the end."
—John Nichols, author of The Milagro Beanfield War
"This is a truly wonderful book…. The final pages will slam you and change
your political views forever."
—David Mangurian, author of Children of the Incas
Interviews
About the Author
Alan Howard has written for The New York Times Magazine, the Nation, Dissent, public television and labor union publications about workers and politics in the US and many other countries around the world. He was a Fulbright Scholar at San Carlos University in Guatemala, an International Fellow at Columbia University, the Latin American correspondent for Liberation News Service, and a national volunteer leader in the 2008 and 2012 campaigns of Barack Obama. His novella Hollywood Furs was short-listed for the 2011 Paris Literary Prize. In the Land of Eternal Spring is his first novel.
Author web site: https://www.alanhowardwrites.com
Love, Life, and Logic captures the individual struggle of a young man against the seemingly unnamed, unknown, anonymous power of the universe. In a shocking revelation of his innermost thoughts, the book depicts a painful account of his emotional turmoil arising out of his own confusions and dilemmas, and his personal developments through all that.
Rohan grows up in a middle class family in a small town in Goa, India. He asks himself many life questions like we all do every day. Is our life and death an end in itself, or do they have a much deeper implication in a gigantic universal process? Is each human life also someway connected to the chain of events unfolding every day in front of our eyes? We all have different thumbprints; but why? Are we all a part of big numbers game, or does each one of us really matter?
Chased by these and many such questions, Rohan leaves his lucrative job and his family in search of the truth. The journey gets complicated when he meets Adeline, a 23-year old vivacious girl in Vienna. Love, again? That brings him back to question his failed marriage. Is marriage an end of the road for love? Do all marriages come with an expiration date?
"In a fast-paced world filled with scars, broken vows, newfound commitments, and insecure relationships in the face of change, Rohan slowly uncovers new paths to understanding the greater universe at large. His journey neatly takes the reader's hand and mind and leads to an engrossing tale of love and redemption, highly recommended for those seeking more than a casual romance story. Love, Life and Logic comes packed with thought-provoking mental and spiritual changes, in which the ultimate goal fluidly changes with better understanding."
-Diane Donovan, Midwest Book Review
Love, Life and Logic

by Uday Mukerji
Release date: November 29, 2016
Genre: Fiction
Price: $22.95
ISBN: 978-1-941861-26-4
"Filled with Indian culture, this story is thought-provoking and is full of emotions."
"A fascinating, alluring book that is existential in nature and draws you into the conflict that Rohan is having as he questions himself what life is about but also has you turn the journey into one of your own."
"It's the search and the road leading to his final realization that makes this book insightful and thought-provoking."
"If you like ruminating on important matters, you will find food for thought. Love, Life, and Logic is among my favourite five of 2016. Highly recommended!"
"This is a very deep book, that will make you think about your own life"
–Books and Movies: Reviews
"This is a surprising and delightful voyage of discovery that is easy to relate to. It is well written and a joy to read. It makes a wonderful read for anyone thinking about their direction in life, but is light enough to make a good holiday read."
–SarahJacksonWriter.com
"If you want a book to help you reflect on the bigger picture of life, this may be the book for you…. Is marriage an end of the road for love? Do all marriages come with an expiration date? It's the search and the road leading to his final realization that makes this book insightful and thought-provoking."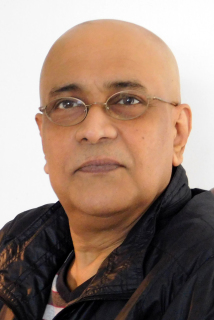 About the Author
Uday Mukerji left his creative director's job in advertising to pursue a writing career in 2009. After writing, re-writing, and deleting a few versions, and secretly burying two laptops, six years later, he is now ready to share his first literary fiction with you.
He was born in India, and had worked in Singapore for nearly twenty years. He loves to travel, and interact with people, not so much on FB or Twitter, though, but face to face, maybe with a cup of coffee. He is a nature lover and his concern for environmental protection also made him the editor of Singapore Environmental Technology Yearbook for ten consecutive years.