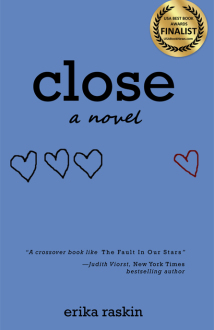 Close by Erika Raskin
1035 Emmet Street, Charlottesville, VA 22903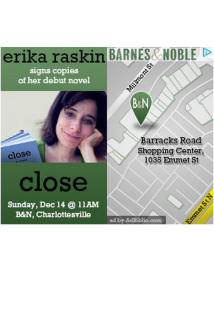 Should family therapy be a spectator sport?
2014 USA Best Book Award Literary Fiction Finalist
On the ballot for Teen Choice Book of the Year
Close, a novel of family and suspense. Single mom Kik Marcheson is doing the best she can — but effort doesn't seem to count for much in the parenting department. Her oldest daughter is swimming in the deep end of adolescence; the middle-child slash good-girl is fraying along the edges; and the baby, a quirky kindergartner, has befriended an imaginary playmate. When a TV therapist offers help, they take it. And then things go from bad to terrifying.
Reviews
"Discovering that you are not alone in your battles is sometimes a relief – or not. Close by Erika Raskin does just that by revealing the imperfections of the Marcheson family. This book tells a poignant and edgy story of a divorced-family dynamic through complex characters and the real life struggles of parenting and adolescence. While trying to get help for the Marcheson daughters this family experiences something that will shock you."
—LitPick Student Book Reviews, 5 Star Rating, www.litpick.com
"Raskin easily balances humor and drama in this novel about parenting, reality TV, and family. Erika Raskin's Close is a welcoming and nuanced novel that offers a window into the life of the Marcheson family—with ultimately much of America peering through that window as well."
—Foreword Reviews 5 Heart Rating
"This book is all about relationships between people and knowing when to forgive and when to let go. It focuses on the theme of trust and what happens when that fragile trust is broken. CLOSE by Erika Raskin is a great read for any teenager and the characters are all extremely relatable. While most families will fortunately never experience the pain of a missing child or the humiliation of national criticism, the actions and struggles of the characters will touch readers as they hope for a happy ending for the Marcheson family."
"Author Erika Raskin's ability to deftly blend humor and drama into a relentlessly entertaining novel that holds the reader's rapt attention from beginning to end without letup is truly impressive! Very highly recommended for personal reading lists and community library General Fiction collections…"
"Close by Erika Raskin, looks at the fragile link that holds families together. The unraveling of one thread can rapidly lead to the disassembling of the whole unit. Parents and children may have the best intentions, but they don't always let their true selves be known."
". . . Close details the moving, wryly funny and ultimately fateful actions of a single mother trying to cope with raising three daughters. "
"Crisply written. A page-turner of significance. This wise debut novel, Close, slices into 21st century motherhood on an academic campus revealing expected and unexpected terrors and tenderness. Erika Raskin captures the thousands of small choices that can go tragically wrong on an ordinary day, the perils of making the private public, and the vulnerability that comes with loving a child. Her ability to portray a mother's love for three very different children is uncanny."
—Alice Randall, Author of The Wind Done Gone
"Wow. Erika Raskin's right-on-the-money observations and incisive prose pull you directly into the heart of this messy, endearing family. It's an accelerating story of entwined love and dread, and it left me breathless."
—Janis Jaquith, public radio commentator,
newspaper columnist
"Raskin's debut novel delivers witty, insightful prose, flesh and blood characters and a compelling plot with a twist that keeps you on the edge of your seat. A terrific read!"
—Deborah M. Prum, author of First Kiss
and Other Cautionary Tales
"When Erika Raskin writes that the father 'downshifted into the somnolent whisper of the Permanently Disappointed' she forcefully sets the tone of her well-paced novel. Close paints an astute yet funny portrait of three daughters and a mother trying to cope with their fractured family. Her vivid characters remind me of many families I've treated over the years."
—Justin A. Frank, M.D., Psychoanalyst and
best-selling author of Obama on the Couch
"Raskin's debut novel will keep you turning the pages in this turbulent family drama, and you'll cheer on as the Marchesons get their collective act together despite their all-knowing TV therapist."
—Jenny Gardiner, author of Kindle #1 Bestseller
Slim to None
• Erika Raskin's second novel, Best Intentions, Macmillan
• Visit Erika's website at www.erikaraskin.net
• Author Twitter @ErikaRaskin