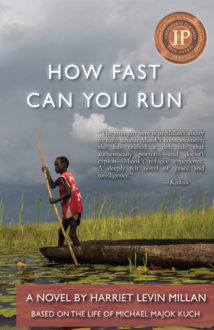 Harriet Levin Millan at
Split This Rock Social Change Book Fair | April 19-21, 2018 | 10 am to 3:30 pm in Washington D.C.
How Fast Can You Run at the New Delhi World Book Fair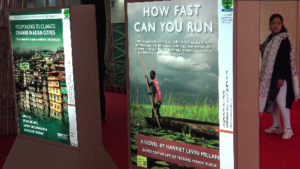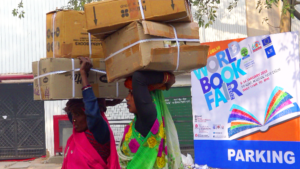 Included in Reader's Digest's Best Books That Inspire You to Travel
A migrant novel based on the true story of Lost Boy of Sudan Michael Majok Kuch
"The best war novel told from a young boy's perspective since Jerzy Kozinski's The Painted Bird." —Nyoul Lueth Tong, author of There is a Country: New Writing from the New Country of South Sudan
Set across a backdrop of refugee migration that spans Africa, America and Australia, How Fast Can You Run is the inspiring story of Michael Majok Kuch and his journey to find his mother. In 1988, Majok, as a five-year-old boy, fled his burning village in southern Sudan when the North systematically destroyed it, searching for John Garang, the South's leader. Majok, along with thousands of other fleeing people, many of them unaccompanied minors, trekked through the wilderness in Sudan, Ethiopia, and Kenya to arrive at a series of refugee camps where he would live for the next ten years. When the U.S. brokered an agreement, granting approximately 4,000 unaccompanied minors political asylum, Majok, now Michael, was given a new start in the U.S. Yet his new life was not without trauma. He faced prejudice once again, disrupting the promise of his new beginnings. This is a story of a survivor who in facing challenge after challenge summons the courageous spirit of millions of refugees throughout history and today.
Order
How Fast Can You Run

by Harriet Levin Millan
Release date: October 28, 2016
Genre: True Fiction, Migrant Fiction, Suspense
Price: $22.95 ISBN: 978-1-941861-20-2 paperback
$35.50 ISBN: 978-1-941861-41-7 hardback
Order
Harriet Levin Millan on
Aspen, CO Public Radio
Iowa Public Radio interviews Harriet Levin Millan
Join "The Smart Set Read" book discussion on Goodreads, and get your free copy of How Fast Can You Run, as a download on Amazon.com from April 3-7.
Click here to accept the invitation.
WTOP Radio News Anchor Bruce Alan talks with author Harriet Levin Millan about her very real story of a young boy separated from his family at the age of 5 when his village was destroyed in Sudan's civil war — how he survived — and what he's up to now.
"Many people have heard of Africa's lost boys, but none tell their story quite so well as Harriet Levin Millan, who shares her first-hand account, in this elegantly written book. As inspirational as it is lustrous, the book follows the journey of lost boy, Michael Majok Kuch, as he sets off to find his mother, after his village is burned down in Southern Sudan."
"…the strength here is in Millan's ability to fully inhabit Majok's consciousness; she has crafted a rich tale that authentically portrays—and doesn't exploit—Majok's refugee experience. A deeply felt novel of grace and intelligence."
"For Majok, committing to a future in the U.S. feels like giving up on the prospect of resuming life with his family in Sudan. The novel brilliantly conveys how he carries the cumulative weight of his experiences, sometimes feeling most exhausted by it in quiet moments. Healing is not a straight trajectory, but a winding path through surprising places."
"Generosity and justice prevail in the storytelling . . . an unforgettable individual portrait of all-too-impersonal war. "
"How Fast Can You Run is an insightful, gripping, and compassionate account of the second Sudanese Civil War and refugee life in America. Michael Majok Kuch's observations, as the author has written them, about what happens to him over the course of his young life are heartbreaking and hopeful in equal measure. Refugees are individuals. They are not the faceless, nameless millions we in the West encounter only on the evening news. How Fast Can You Run is an important reminder of this."
"The circuitous journey in How Fast You Can Run is like a story that never ends. The main character Majok struggles with warfare and starvation even within the confines of refugee camps. When he comes to America, he deals with the terror of a new country and betrayal."
"The un-imaginable journey of Sudanese refugee Michael Majok Kuch becomes an epic tale through the telling of Harriet Levin Millan's How Fast Can You Run. Genre bursting, this part memoir, part bildunsroman, part adventure tale, and part heart-felt family reunion avoids the pitfalls of many of its predecessors. Full characterization from Sudan to Philadelphia, exacting detail from beginning to end, clearly visualized African landscapes in all their complexity; there are no broad brushstrokes of civil war, refugee plight and immigration here. A fuller story than How Fast Can You Run cannot have been told of the tragic events of war in Sudan that uproot the young boy from the Dinka plains of Southern Sudan to Kakuma refugee camp to Nairobi and Philadelphia and how he has to fight a different kind of war in America from which he emerges victorious. Epic."
—Bill Kahora, Editor, Kwani
"…an unforgettable individual portrait of all-too-impersonal war. A book like How Fast Can You Run is an eye-opening experience, awakening empathy for a much wider world."
—prickofthespindle.org
"In How Fast Can You Run Harriet Levin Millan turns novel-biography into a genre of its own and shows how empathy can turn into a true solidarity. This is a beautiful and crucial story told by two people, one Sudanese with dreams of independence, the other, an American poet who listens to Michael Majok Kuch through her imagination. For Mike in the United States, Halloween with strange fruit hanging triggers PTSD, ethnicity becomes race, soldiers become white police, tragedy there becomes tragedy here and in the end there is only one life for Mike to live. An enduring image for me – a refugee boy blowing up a discarded bloody surgical glove to make a soccer ball, this bio-novel reminds us that the most human of all activities, the one thing that binds us all is finding beauty even in impossible situations."
—Mukoma Wa Ngugi, author of Nairobi Heat
"Harriet Levin Millan has transformed the story of one "lost boy" into an earthy, grittily told, highly affecting novel. With a poet's piercing eye, attuned ear, and facility for recognizing resonant moments, Ms. Millan has written an emotionally rich-veined, dramatically moving and ultimately triumphant story. I emerged from this ingenious, fast-paced novel with the sensation of having been taken along by its protagonist on a poignant, heart-pounding journey, enlarged, and changed."
—Okey Ndibe, author Foreign Gods, Inc.
"And an excellent wordsmith can bring everything together in a story line that's completely accessible to newcomers to this history…. Few accounts can adequately capture such experiences, but where nonfiction may falter, How Fast Can You Run proves that an adept writer can step in and use the fiction format to capture the drama, psychology, and tension of civil war from a child's eye (in this case, Michael Majok Kuch)….Because How Fast Can You Run is based on a true saga, the viewpoints and experiences of Kuch come to vivid life and weave a powerful saga of politics, struggle, and survival that's hard to put down. Any reader interested in accounts of the Sudanese war will find this a compelling method of absorbing history at its most meaningful: through the eyes of a young eyewitness who didn't just observe events, but lived through and survived them."
—D. Donovan, Senior Reviewer, Midwest Book Review
"How Fast Can You Run is the story of the indomitable spirit of a boy who overcomes inconceivable loss and countless instances of physical and emotional danger, exiled from everything he had ever known. Millan's telling of Kuch's story is a refugee's dark odyssey that witnesses the vicious realities of the Sudanese conflict and the power of a single human life to overcome impossible trauma with perseverance, hard-won wisdom, and an unyielding grace. Devastating, moving, full of magical grace."
—Tyler Meier, Executive Director, University of Arizona Poetry Center
"In How Fast Can You Run, Harriet Levin Millan tells the story of one boy's search for a mother's love through almost unimaginable pain and suffering. After being separated from his family at the age of five during Sudan's civil war, Majok and later Mike, the novel's real-life South Sudanese protagonist, braved war, hunger, and desperate illness before arriving in the United States as a refugee. Millan, who met Michael Majok Kuch when her creative writing class interviewed Sudanese immigrants, brilliantly renders the contours of Dinka and refugee life as well as the internal life of a young refugee tormented by the loss of his family and his childhood. Congratulations to Millan. How Fast Can You Run is a marvelous achievement."
—Deborah Scroggins, author, Emma's War: A True Story of Love and Death in Sudan
Michael Majok Kuch returned to his homeland of South Sudan in 2010, after attending high school, college, and graduate school in Philadelphia. In 2005, he was featured in the PBS Documentary, Dinka Diaries, as one of the Lost Boys of Sudan. In 2008, he was the recipient of a Fulbright U.S. Department of Education Scholarship to Sudan, Ethiopia and Kenya. He currently works for the government of the Republic of South Sudan, where he is an advisor in Research and Policy in the Office of the President. He lives in Juba with his wife and daughter.
Readings & Presentations
Sept 13, 2016, 6:00 PM, Katz JCC, 1301 Springdale Road, Cherry Hill, NJ
Sept. 27, 2016, 7:00 PM, Federation for Jewish Philanthropy of Upper Fairfield County, Fairfield, Conn
October 13 2016, Merchantville Book Club, 7-9 PM
*October 28, 2016, 4:00-6:00 PM Book Launch, Drexel University, Pearlstein Gallery
(concurrent with Warp & Weft; work by Caroline Lathan Steifel), 3401 Filbert Street, October 28, 4:00-6:00 PM
*October 30, 2016, 10:30 AM, Har Zion Temple, Penn Valley, PA
*November 1, 2016, Live! Radio Times with Marty Moss Coane, WHYY 90.9 10-11 AM
*November 1, 2016, 6:00 PM, Philadelphia City Institute, Free Library of Philadelphia, 1905 Locust Street
*November 2, 2016, 7:00 PM, Main Line Books, 116 North Wayne Avenue, Wayne PA
*November 3, 2016, Center for Africana Studies Center, University of Pennsylvania, 3401 Walnut Street, Phila.
*November 9th, 2016, The Peace Center, featuring a talk by Michael Majok Kuch, 109 Maple Avenue, Langhorne PA
*November 15, 2016, 4 PM, Arcadia University, 450 S. Easton Road, Glenside, PA
*November 17, 2016, Lock Haven University of Pennsylvania, Lock Haven, PA
*November 18, 2016, 9:40 AM, Friends Central School, 1101 City Ave., Wynnewood, PA
*November 20, 2016, 3:00 PM Marcus Jewish Community Center, Atlanta Georgia
*November 22, 2016, Springside Chestnut Hill Academy, 500 W Willow Grove Ave, Phila., PA
*November 30, 2016, University of Pennsylvania, International Social Work Class, Fisher Bennet Hall Room 141, 5:00 PM
*December 1, 2016, University of Pittsburgh, African Studies Program, 4217 Posvar Hall, 2-3:30 PM
*December 1, 2016, 8 PM City of Asylum at Alphabet City, 40 W. North Ave. – Pittsburgh, PA – 15212
*December 12, 2016, 7 PM, Amy and Anne's Book Club, New York New York
*December 15, 2016, 7 PM, Kesher Israel, 4th and Lombard, Philadelphia PA
December 20th, 2016, Bryn Gweled Homesteads Book Club
*January 9, 2017, Australia Book Launch The Avid Reader, Brisbane, Australia
*Jan 19, 2017, 4:30 PM, LaSalle College High School, 8605 Cheltenham Avenue, Wyndmoor, PA
*Jan 20th, 2017, 9:00 AM, Central High School, Philadelphia
*January 22, 2017, 2:00 PM, C. Burr Artz Public Library, sponsored by Curious Iguana Books, 10010 East Partick Street, Frederick MD
*January 24, 2017, 7 :00 PM, BookCulture, (with Jill Bialosky) 450 Columbus Avenue, New York, New York
*January 25, 2017, 4:30 PM, La Salle High School, 8605 Cheltenham Avenue, Glenside, PA
February 15, 2017, Merchantville Women's Club, Merchantville, NJ
February 8-11, 2017, TBA, Associated Writing Programs Annual Conference, Washington D.C., "When Authors Move in and Out of Their Countries and Genres," with Garth Greenwell, Dina Elenbogen and Fabienne Joshaphat.
Feb 16 or 21, 2017, 12:30 PM, Sheree's Book Club, Bryn Mawr, PA
Feb 16, 2017, 7 PM, Wooden Shoe Books 704 South Street, Philadelphia, PA
*February 22, 2017, (Online) Charter for Compassion Global Read—Free, Register here. Charter for Compassion International is thrilled to be collaborating with Harriet Levin Millan for their Global Read Program! Charter members from all around the world have been reading Harriet's novel How Fast Can You Run and will come together for an online conversation with Harriet (and the protagonist from the book itself!) on February 22nd at 9:00 am PST. This will be their kickoff Global Read Session of 2017!
March 1, 2017, 7 PM, SUNY Stony Brook Southampton MFA Program, Writers Speak Series with Omar Bah.
March 6, 2017, 7:00 PM, Poetry Reading, Free L library of Philadelphia (with Jill Bialosky), Philadelphia, PA
March 29, 2017, 5:00 PM Temple Beth Zion Israel, 300S 18th St. Philadelphia, PA
April 9, 2017, 10:00 AM, Beth El Men's Club, 8215 Old Georgetown Road, Bethesda, MD
May 7, 2017, 9:30 AM, Congregation Sukkat Shalom, Willamette, IL
May 8, 2017, Prairie Lights Bookstore, Iowa City, Iowa
June 8, 2017, Explorer Book Store, Aspen, CO
June 9-11, 2017, 3-4 PM, Philadelphia Writers Conference, Novel Writing Workshop – *appearing with Michael Majok Kuch
June 12, 7:30 PM, My Book Club, Huntingdon Valley, PA
June 23, 12 noon, PEN Haiti, (Poetry Workshop) Thomassin, Haiti
*September 8, 12-2 PM, South Sudan Flag Raising Ceremony, City Hall, Mayor's Conversation Hall, 2nd Floor, Philadelphia, PA—postponed to 2018
Sept 19, Janey's Book Club, Cherry Hill, NJ
Sept 26, 7 PM, Gerri's Book Club, Swarthmore, PA
*October 13, Mighty Writers West, 3861 Lancaster Avenue, Phila, PA workshop 4-5:30; reading and presentation, 6-8 PM
November 3, 7:30 PM, Bucks County Community College, 275 Swamp Road, Newtown, PA http://tickets.bucks.edu/event/b2673d8f4d475af733e199532c450346
November 8th, 7:00 PM, Temple Beth Zion – Beth Israel, 300 S. 18th Street https://bzbi.org/learn/adult-learning/sicha/
Miami Book Fair, November 18-19th, Miami Florida
Jan 31, Amherst College, Amherst, MA
March 8, AWP 2018, Tampa Florida, "Poets Who Write Prose," with Gregory Pardlo, Marilyn Chin , Jill Bialosky and Joy Harjo
More news on the migrant crisis
'Inside the World's Biggest Refugee Camp'—The BBC interviews refugees from Somalia in the largest refugee camp in the world
where 300 000 people live in Kenya.
Articles
Jewish Novelist Writes Inspirational Story of Sudanese Refugee's Life
Refugees Run for Rio Olympic Dream Team
Article on Kakuma, the camp Mike lived in.
"Malala Yousafzai Spends Her 19th Birthday in World's Largest Refugee Camp"
Poetry by Harriet Levin Millan
Harriet's poetry in Ghost Town
About the Author
Harriet Levin Millan is a prize winning poet and writer. Her poetry collection, The Christmas Show, (Beacon Press) was selected for the Barnard New Women Poets Prize and The Poetry Society of America's Alice Fay di Castagnola Award. She received a MFA from the University of Iowa's Writers Workshop and has written for The Kenyon Review, Ploughshares, Prairie Schooner, The Harvard Review, The Iowa Review, PEN America, The Smart Set, among other publications. She and her family founded the Reunion Project and along with the participation of Philadelphia-area high school and college students, raised money to reunite several Lost Boys and Girls of Sudan with their mothers living abroad. She teaches creative writing in the English Department at Drexel University and directs the Certificate Program in Writing and Publishing. She lives with her husband outside Philadelphia.