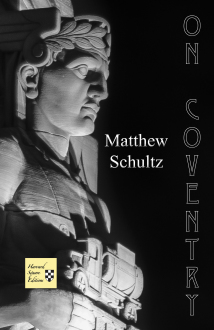 On Coventry traces the very real phenomenon of generational decline by mapping the economic corrosion of Cleveland, Ohio, upon the semi-charmed story of Eliot Hopkins who, on the tragic side of twenty-two, finds himself thoroughly disappointed with life when the foggy hue of a girl in a knee-length pea coat, its collar turned up against the swell of her ale-brown hair, appears before him. The story follows the ill-fated love between Eliot Hopkins and Alice Browne through the seemingly enchanted relationship of his now deceased mother and disabled father, and further back to the charmed life of his great-grandparents–immigrants who escaped Austria-Hungary at the outset of the First World War to find one another in a Minnesota mining camp before moving to Northeast Ohio. Schultz renders a discerning narrative of serendipitous relationships, cruel misfortune, and the entropy of American dreams. One that is a testament to the enduring optimism of every Clevelander who believes in tomorrow, next year, eventually, somewhen.
Praise for On Coventry
"The protagonist of Matt Schultz's fine debut novel, On Coventry, is Eliot Hopkins, a deeply introspective, passionate young man "on the tragic side of twenty two," haunted by his mother's death, his own family's troubled lineage, and wonder struck by new love. On Coventry is both a tender Bildungsroman and a sweet Valentine to that great, faded beauty of a city, Cleveland, told in a generous and muscular prose we haven't seen since Raymond Carver ran off with all the adjectives."
–George Bilgere, author of The Good Kiss
"Literary fiction with the ink of a gorgeously patterned history tattooed deep into its skin."
–Amitava Kumar, author of Nobody Does the Right Thing
Matthew Schultz's On Coventry is a love letter to a city, its history and its inhabitants. Each page resonates with the idea "that the story of our individual and collective histories still lives in each of us." Each sentence pays moving and lyrical homage to the sense of possibility in every person and place, and every story.
–Dave Lucas, author of <Weather
About the Author
Matthew Schultz was born in Cleveland, Ohio. He is the Director of the Writing Center at Vassar College, where he also teaches courses in literary modernism, composition and rhetoric, and writing pedagogy. He is the author of Haunted Historiographies: The Rhetoric of Ideology in Postcolonial Irish Fiction and holds a B.A. and M.A. in English literature from John Carroll University and a Ph.D. in modern Irish literature from Saint Louis University.
Royalties from On Coventry are donated to the ACLU of Ohio.