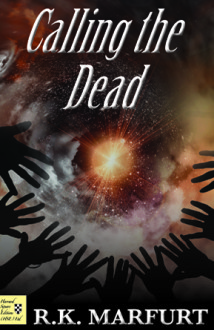 [add_to_cart id="4002″ sku="" style=" border: 0; "]
Eusapia Palladino's wretched childhood in a small Italian village, her evolution into one of Europe's most successful mediums and her travels to France, England and America at the turn of the 20th century come alive in this gripping tale that spans literary, historical, feminist, occult and paranormal categories. Since Eusapia's special powers spring from her relationship with her deceased mother, her story was fittingly released on Mother's Day.
In a period when the emergence of modern science calls into question long-held assumptions, and spiritualism fills a void caused by the resulting decline in traditional religious beliefs, Eusapia taps successfully into the new hopes and fears of her time.
Communicating with the dead is deeply personal for Eusapia. She survives the misery of her childhood only by holding on to her dead mother who died giving birth to her. For a poor but clever and independent girl without schooling, becoming a medium is one of her only means to get by in life and maybe even do well. With the help of influential spiritualists, Eusapia develops her powers. Her reputation soars and brings her to cities all over the world. She is sought out by famous people and investigated by renowned scientists and Nobel Prize winners like Charles Richet and Marie and Pierre Curie.
R.K. Marfurt's novel explores Eusapia's conflicted, not always savory, yet courageous journey through life and mediumship, as well as the multifaceted relationships of scientists and upper-class people with spiritualism and the dark séance rooms where peculiar and unexpected things happen.
Order
Calling the Dead
by R.K. Marfurt

Release date: May 4, 2014
Genre: Historical Fiction
Price: $19.95
ISBN: 978-0989596022
Order
Praise for Calling the Dead
"Calling the Dead is a timely historical novel exploring the spaces between religion, science and spiritualism. Join traveling medium Eusapia Palladino (1854-1918) on a fascinating journey to the indeterminate realms that have come to dominate the postmodern era. Love, politics and science collide in what, ultimately, is a rumination on human being."
—John M. Gist, Founding Editor, Red Savina Review
"R.K. Marfurt does a marvellous job at showing the reader how Eusapia's childhood may have impacted her and drawn her into the world of spiritualism. CALLING THE DEAD is an insightful, albeit very dark, look at the life of Eusapia Palladino. R.K. Marfurt paints a very powerful portrait of her life and the times that shaped both the woman and her career. CALLING THE DEAD is a tragic and intense look at a well-renown medium."
—Fresh Fiction
"Calling the Dead is an impressive achievement. It is a straightforward biographical story yet full of suspense, a firmly grounded account with a dreamlike quality, an intensely feminine exploration of self in a predominantly male environment, a historical narrative with contemporary immediacy. An excellent book."
—Jose Havet, Professor of Sociology, Ret., University of Ottawa
"…a very entertaining read, and I recommend it for the permanent library of any reader who appreciates an excellent novel and wants to get hooked from the beginning."
"In rich and fluid language, the novel explores a plethora of feelings and situations. The reader can't help but be swept up as if under the spell of a real séance. A must read."
                                                                                               —Marie-Andrée Donovan, author of the award-winning Les soleil incendiés, and À l'ombre du silence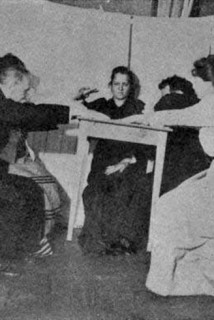 'The Table in the Air – A Typical Table Levitation with Eusapia Paladino.'

The man on the right of Eusapia Paladino, is the French Professor and Astronom, Camille Flammarion. On her left side, in front of her is the Italian researcher Dr. Cesare Lombroso.