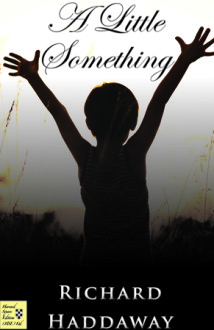 [add_to_cart id="4006″ sku="" style=" border: 0; "]
Katherine Warren, M.D., is a no-nonsense pediatrician who serves the small and suffering in a Texas barrio clinic. She thinks she's seen it all, but then it all hits home. Her ten-year-old son is brought to the edge of death by a medical accident in a dentist's office.
Katherine, her CPA husband, Sam, her grandmother, her best friend, her scientific colleagues – the finest minds and biggest hearts – rally to the aid of the boy, who is locked in darkness.
Sam and Katherine, twin towers of rationality, must come to terms with difficult yet sustaining truths. When all seems lost, this is what remains:  Below hope, beyond the reach of religion or science, at the point of surrender lies something in our trembling center that keeps us going. A small, quiet mystery. A little something.
Praise for A Little Something
"What makes this story work so well is Haddaway's laser focus on the characters and how each deals with the impact of Justin's coma and the uncertainty about his future."
—Jeff Fleischer, Foreword Reviews
"Haddaway's ability to imagine a family facing tragedy and its aftershocks offer nearly the opposite of cynicism—this is a story of grace, a reminder of the tenuousness of life, and the fragility of family ties."
—Michael Wade Simpson, CultureVulture.net
"A ten-year-old boy is struck in the face by a foul ball; from this freak accident a relentless chain of events unrolls. This brave and illuminating book focuses on his parents Sam and Kath (herself a physician to children) and medical personnel, but it also explores wider contexts of religion, bioethics, social justice, and the limits of medicine in desperate situations. Richard Haddaway has crafted a pitch-perfect range of characters' emotions and memories, of scientific facts and obdurate mysteries, and of suspense and resolution."
—Albert Howard Carter, III, Ph.D., adjunct professor, Social Medicine, School of Medicine, University of North Carolina-Chapel Hill, and author of Our Human Hearts: A Medical and Cultural Journey
About the Author
Richard Haddaway has spent thirty years in the journalistic trenches as an editor, reporter and columnist for newspapers and magazines. His previous novel, Where the River Bends, was published by SMU Press in 2003.
He was an Army medic during the Vietnam era and also worked for a time as a hospital orderly, specializing in bedpans. A Little Something was written in close consultation with a neurologist, William Gulledge, M.D.
Haddaway is a born-once, third-generation Texan who now lives in Santa Fe with his wife, Kay, a CPA, and the best of all possible dogs, WooWoo. They have one son and three grandchildren.