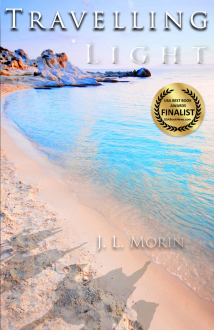 by JL Morin, award-winning author of Sazzae
"This drama is captivating. It richly por-trays the texture of today's libertine Europe and the dehumanizing, violent traffic in women and girls as sex commodities."
— AMBASSADOR MARK P. LAGON, Ph.D.
MSFS Chair for International Relations,
Georgetown University, and Former U.S.
Ambassador to Combat Trafficking in Persons
"Morin's Mackenzie is a vivid and vivacious protagonist, judiciously aware of the power of her sexuality and fully in charge of it. The voice sparkles."
— Don Tingle
"Full of laser-sharp wit and hilarity, J. L. Morin will capture your imagination with this exciting page-turner."
— Beverly Jurenko, Mother, Wife, and
Award-Winning Entrepreneur
"The author admirably dramatizes this, using an intelligent everywoman, who sees the origins in the jealous and depersonalization of her own marriage."
— Not Another Book Review
"It's a bit of humor, chick lit, history, creative nonfiction and detective story rolled into one."
— Judith Smith
27 Millions Slaves Travelling Light or Praying for Freedom?
With slavery set to overtake the drug trafficking industry, the novel TRAVELLING LIGHT could not be timelier. J. L. Morin, nominated for the Pushcart Prize in 2011, uses her talents as a novelist to explore the contradictory reality of slavery flourishing in a tourist paradise . . . the Mediterranean island Styxos.
Mac, a naïve but driven archaeologist comes to live on Styxos with her husband and children and soon realizes that she has given up more than just a familiar way of life: She has lost the anchor of a civilization whose values she had taken for granted.
The price of paradise on Styxos is high. Mac's husband soon reverts to the male stereotype of his homeland, and she is left adrift in an insular world of women, struggling to maintain her autonomy and a nurturing home for her children. The dreams of paradise Mac had entertained rapidly dissolve after the body of a sex slave is found in a hotel swimming pool during a highbrow investors' gala. Using her archaeologist's gift for unraveling ancient mystery, Mac begins an investigation that will take her to the deepest levels of myth and tradition, where international politics meets greed and corruption.
In TRAVELLING LIGHT, readers discover Styxos, the newest EU accession state, head over heels in modernization as investment pours in. Mac finds herself trapped on the lowest level of society, with her husband slipping away, unable to leave without her children. She befriends Farouk, a French businessman derailed from his ensuing marriage when he is implicated in the murder of the sex slave.
As Mac uncovers the harsh reality of sex trafficking on the island, her marriage comes to a crisis, and she must escape or fall victim to the trafficking ring. Her uncommon partnership with Farouk evolves from infatuation to a friendship more liberating than romance.
When J. L. Morin reveals the gates to hell on the fictitious island of Styxos, she also sheds a harsh light on the secret plight of victims sucked into the slave trade. With 27 million actual slaves worldwide in 2011, Morin's fiction becomes all too real.
Many westerners assume we are progressing with freedom and equality. Not so, says Morin. The fact is, there are more slaves on earth today than at any time in human history and at least twice as many as there were at the height of the trans-Atlantic slave trade that peaked at 80,000