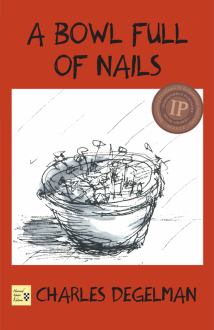 A Bowl Full of Nails Charles Degelman Finalist, Bellwether Prize for Socially Engaged Fiction Barnes & Noble Book Launch, April 21, 2015
Fiery young Gus Bessemer vows to stop the war in Vietnam. His weapon of choice? Guerrilla street theater. But when a shotgun-wielding riot squad loads up with live ammo, Gus' defiant art attack screeches to a halt. Nursing rage and confusion, he heads for the Colorado Rockies, only to discover that—even surrounded by rugged mountain beauty—there's no escaping the war at home . . . or himself.
Charles Degelman reads an excerpt on public radio
Praise for A Bowl Full of Nails
"A Bowl Full of Nails is a distinctive novel that evokes a time and place with rich dialogue and detail. Degelman has conjured up a blend of patchouli, Bob Dylan lyrics, Indian print textiles, and hippie slogans and set them down in a windswept patch of the Colorado Rockies, making for a textured and evocative book."
— Rachel Jagareski, Foreword Reviews
"A Bowl Full of Nails offers the reader a suspense-filled tale bursting with humor, espionage, and rebellion while the author explores the dance between personal demons and political resistance."
— Carl Logan, Midwest Book Review
"BERKELEY, May 15, 1969 — Riot police carrying shotguns killed one bystander and wounded several protesters…the factual event that begins the fictional odyssey of Gus Bessemer, antiwar activist in Degelman's A Bowl Full of Nails . . . a gonzo re-creation of a deadly serious time."
— Susan Weinstein, Not Another Book Review
"A Bowl Full of Nails reminds us that the '60s weren't just about flowers and stoned hippies. With a dynamic plot that keeps you on the edge of your seat, this rough-edged tale bursts with humor, rebellion, tragedy, betrayal, and espionage."
—Mary Mackey, author of Season of Shadows
"In A Bowl Full of Nails, Degelman builds a marvelous suspense that lures the reader on a trip into the past, to a power place where big things happened. I could taste the '60s gestalt in the back of my throat.."
—Destiny Kinal, Founder, Reinhabitory Institute,
author ofBurning Silk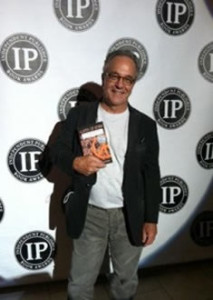 About the Author:
Charles Degelman, is an award-winning author, performer, and producer living in Los Angeles. His recent novel, A Bowl Full of Nails, set in the counterculture of the 1970s, collected a Bronze Medal from the 2015 Independent Publishers Book Awards and was a finalist in the Bellwether Competition, sponsored by Barbara Kingsolver. His novel Gates of Eden, set during the anti-war movement of the 1960s, won an Independent Publishers book award, and his first screenplay, "FIFTY-SECOND STREET", garnered an award from the Diane Thomas Competition, sponsored by UCLA and Dreamworks. His first novel, A Bowl Full of Nails, was a finalist in the Bellwether Competition, sponsored by Barbara Kingsolver. He is on the Faculty of California State University where he teaches writing in the Television, Film, and Media Studies/Communications Studies program. He lives in Los Angeles with his companion on the road of life and four cats.