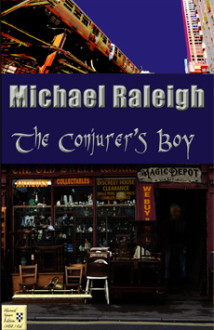 The Conjurer's Boy
The Conjurer's Boy is the saga of Thomas Faye, a fatherless boy who enters a junk shop on a gray Chicago day in 1962 and is forever changed by the two men he meets there. Arthur Farrell, the proprietor, is a sometime-magician,raconteur, wanderer, a wounded veteran of the carnage at the Somme, who can heal – and perhaps far more – with the mere touch of his hand. His belligerent friend Meyer, a seemingly indestructible survivor of the fall of the Warsaw Ghetto, lives on the street, a magnet for trouble and violence. Under the influence of these two mysterious men Thomas comes to see the world in ways he could never have imagined. As his own travels take him to Vietnam and the far corners of America, he adopts one persona after another: drifter, soldier, carny worker, detective, lover. Through it all, three people hover at the edge of his existence: Farrell, Meyer, and a troubled girl. As he notes the troubling changes in his own abilities, he begins to understand why fate sent him into the conjuror's shop that day in 1962.
Praise for The Conjurer's Boy
"Michael Raleigh hits a home run this book. I really loved In the Castle of the Flynns but this is even better. For those of us who grew up in Chicago during the time frame of the book, much less walked or drove the same streets, this book is a real and personal journey through a child's, young man's and man's life. There were parts that were dark and there were no easy outs. Everyone has a Conjurer in their life; they just need to listen, try to understand and take the hand-off from another generation. If Raleigh were only a Southsider and set his books there [South Side Chicago], he would be on the New York times best seller lists for years!"
― John P. Farris
Michael Raleigh is the author of seven previous novels, including  In The Castle of the Flynns. He has received the Eugene Izzi award for crime fiction and four Illinois Arts Council awards for fiction. He teaches writing at DePaul University and lives in Chicago with his wife Katherine and his three children.