All at Once
Alisa Clements
Desperate to escape the tedium of small island life, Florian finds himself drawn to Zar, not realizing how thoroughly her unconventional spirit will challenge his beliefs. The arrival of Emily relieves some of the tension that exists between the two, but hidden agendas provide new sources of conflict as the three characters discover each other and themselves. Elsewhere in the space-time continuum, Jo, an American in Brazil, stumbles upon an anarchist theater group studying the Outernet, a plane of paranormal consciousness that functions as a global communications system. As her latent psychic talents emerge, Jo is drawn into a high-stakes battle to escape the constriction of the ego and overthrow a totalitarian consortium. All at Once constructs an Escher-like world of illusion and exquisite detail, where lost identities surface in unexpected places. The novel invites the reader to new heights of awareness by leading them nowhere and everywhere at once, blurring the boundaries between fiction and reality.
Read an excerpt of All at Once.
Praise for All at Once
"All at Once is a bit like the syncretic cults that enter its plot. Past and present, feminine and masculine, mysticism and modernity intermingle and recompose under a thickening menace. The story is constructed through the fragmentary perceptions of the characters, some of which are able to access a reality that subsumes our own. Sound is always present, infusing the settings…. Alisa Clements is a specialist in the dissection of vibrations. An enthusiastic explorer of the psychoacoustic terrain and fan of the music of ordinary sounds, she has studied, composed, performed and taught experimental and electronic music, first as teaching assistant and manager of the Harvard Electronic Music Studio under the direction of Ivan Tcherepnin, then as instructor at the Massachusetts College of Art, giving classes in electronic music, installations, and the polygamous marriage of sound, movement, and image."
—Afrikadaa, p. 268 POLITICS OF SOUND
"The boundaries of human imagination are explored in Alisa Clements's intelligent fantasy novel ALL AT ONCE. Clements presents two romantic triangles, centuries apart, whose participants all share psychic abilities beyond the norm. Much of this beautifully written novel centers on the story of Josephine, a scholar researching native religious practices in a more or less modern-day Brazil, and her encounters with a group of people, rebels against the government, who seem to have harnessed their psychic powers in a manner that promises great things for humanity but threatens the power structure. How Clements connects the dots between the two fraught relationships is just one of the rewards of this clever and entertaining book."
"Love triangles, international adventure, psychic awareness, evil plans for world domination. All at Once will not let you put it down! A beautifully rendered novel."
—Faulkner Fox, author, Dispatches from a Not-So-Perfect Life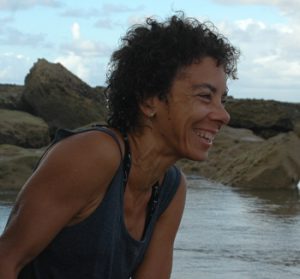 About the Author
Alisa Clements is the author of All at Once, a novel that invites readers to new heights of awareness by leading them nowhere and everywhere at once. The Midwest Review praised Clements' exploration of "the boundaries of the imagination," and indeed, the boundaries between fiction and reality blur when her protagonists attempt to 'logon' to the far-out 'Outernet' for a meeting of the minds. You can read an excerpt of the novel here.
Clements decided at age seven that she would be a writer when she grew up, but this vocation was eclipsed in college by the exploration of other media, primarily electronic music. As a student at Harvard University, she became a teaching assistant in the electronic music studio and stayed on after graduation, later taking the role of studio manager.
She then entered the Studio for Interrelated Media program at the Massachusetts College of Art to pursue her interests in experimental music, performance, and film. Upon receiving her MFA degree, she became an instructor at the college, teaching classes in electronic sound composition. Her experience in this field―as a performer, composer, and teacher―enters into All at Once in the guise of arcane facts about the effects of audio stimuli on human consciousness.
After a journey that has spanned several professions and countries, including thirteen years spent in Bahia, in northeastern Brazil, Alisa now lives in the Sirius intentional community in the woods of Western Massachusetts.