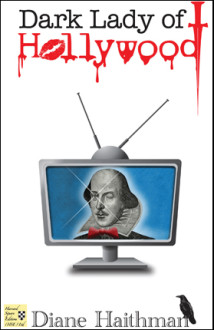 "O wonderful, wonderful, and most wonderful wonderful! And yet again wonderful"  . . .
Shakespeare wrote that—not about Dark Lady of Hollywood. But the tale of a dying TV comedy executive's desperate (and murderous) search for a soul mate akin to Shakespeare's mysterious Dark Lady of the Sonnets was a Finalist in the prestigious William Faulkner Creative Writing Competition. Here's the buzz on the final cut:
Booklist praised Dark Lady's humor: "A finalist in the William Faulkner Creative Writing Competition, Haithman's hilariously funny novel gives readers a bird's–eye view of the Hollywood machine and its players. With witty, fast-paced dialogue and characters readers will cheer for, this debut is a deeply satisfying story of love, loss, and acceptance."
Foreword Reviews also gave the suspense novel a thumbs up:
"It takes a special kind of talent to simultaneously skewer Hollywood and Shakespeare while writing a thought-provoking novel, and Dark Lady of Hollywood proves Diane Haithman has this genius."
Native Detroiter Diane Haithman at Barnes & Noble
Diane signed copies of her new novel in her hometown and read selections from the book based on her experiences as an arts and entertainment writer. The event, which took place from 3-5 p.m. Sunday, Aug. 10, at the West Bloomfield Barnes & Noble Booksellers, 6800 Orchard Lake Road, was part of the book store's Roeper School Book Fair, which supports a scholarship fund for the private day school.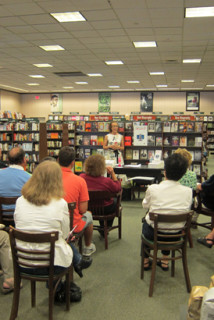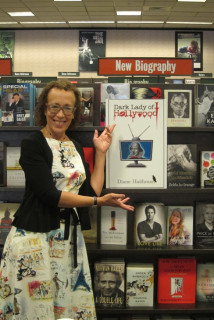 Order
Dark Lady of Hollywood
by Diane Haithman

Release date: February 19, 2014
Genre: Literary Fiction; Suspense; African American
Price: $18.95
Paperback ISBN: 9780989596015
Order
"It's a wildly witty and intensely readable tale, told from the perspectives of two different characters — a male, 36-year-old TV comedy exec who has been diagnosed with cancer, and a younger, biracial woman who works for the preening diva who hosts 'America's most popular daytime talk show' "
Ray Richmond says of Diane, ". . . her book is at once hilarious, sly, cynical, sublimely entertaining and spectacular, crafted with an irreverent flair and an insider's self-assurance. You absolutely need to purchase a copy — or, as Haithman says, 'If you buy two copies, it's twice as funny.' "
"Deadly guilty pleasure"
—Broadway World Los Angeles
"…a satire of a place the author knows very well. As an arts and entertainment journalist, LA Times staffer and Southern California journalism professor, Haithman shows her love and hate of the town which now has an unknowing international film loving community….plenty of silicone jokes and funny comments about the town…"
Hear the beginning:
More reviews:
"Diane Haithman has a unique comic voice that's as effortlessly breezy as it is astute and acute in its observation of human foibles — and, in the case of Dark Lady of Hollywood, that means humans navigating the unforgiving parallel universe that is show business.  Her writing sparkles like diamonds and cuts like them too."
—Mitchell Levin, senior story analyst, DreamWorks SKG
"Diane Haithman's Dark Lady of Hollywood brings a surprising flare for sharp-paced comedy and piercing Shakespearean insight to the slings and arrows of an unsuspecting TV executive's encounter with a fate as  fickle as a TV show's audience rating."
—Ben Donenberg, Artistic Director, Los Angeles Shakespeare Center
Dark Lady of Hollywood is a gem.  It's one of the rare books about Hollywood that gets it right. The style is breezy, even when the author explores the deep yearning of the human heart.  I especially like the voice of the Dark Lady. It's unique, her insights are perceptive, and when she gets going she shatters expectations.
—Loraine Despres, novelist/screenwriter, The Scandalous Summer of Sissy LeBlanc, "Who Shot J.R.?" episode of Dallas
It takes one to know one, and veteran entertainment journalist Diane Haithman delves into the world of Hollywood the way only an insider can. But this pitch-perfect L.A. story turns highbrow when Shakespeare gets involved!  A must-read for anyone who loves to hate bad TV — or whose dusty college copy of Shakespeare still has a place on the shelf.
—Cari Lynn, author, The Whistleblower, Madame
Diane Haithman was an Arts Staff Writer for the Los Angeles Times until October, 2009 and is a major contributor to Deadline Hollywood industry website and its print publication, AwardsLine. She recently joined the adjunct faculty of University of Southern California's Annenberg School of Journalism, teaching Feature Writing.