Rocked in Time
The Resistance Trilogy, Volume III
A forthcoming novel by Charles Degelman
Rocked in Time, completes the award-winning author's Resistance Trilogy, three novels set in the rebellion, love, and chaos of the 60's resistance movement.

Rocked in Time slips behind the scenes of a blasphemous theater company hell-bent on toppling America's Vietnam-era establishment with punch lines, pratfalls, and comic rebellion. Along the way, the protagonist pursues a love for the stage and a passion for resistance amid the tear-gassed campuses and burning cities of a nation at war with itself.





Praise for Rocked in Time

"We've heard about the generation that changed the politics and culture of the 1960s. But how did that rebellion change those who made it happen? Rocked in Time delivers that tale from a unique theatrical perspective."
—Tony Kahn, writer, producer, PBS, NPR
"Rocked in Time offers an openhearted, often humorous look at the collective power of the theater while a war raged, racism ruled, and the women's rights movement was still around the corner."
—Laura Kern, writer and editor for the New York Times, Film Comment, and Rolling Stone magazine
"Rocked in Time offers a great read, beautifully written, and more important, holds true to the flavor and feel of lives lived on the edge, surviving through constant effort and recalibration. Degelman calls out our frailties, indulgences, and errors — including decades of efforts to root out our own ingrained sexism — without denigrating the courage and commitment of men and women whose quest for truth and justice continued forward, utopian anarchists who never forgot how to laugh."
—Peter Coyote, actor, writer, Zen Buddhist priest
"I absolutely loved this book! I was attracted by the cover and description and really enjoyed the adventure. After reading it, I went to the author's website and saw this is the third book in a trilogy! The good news is I did not need to read the other two books first to understand and follow the plot of Rocked in Time. I will go back and read the other two books because I really liked Degelman's writing style. This book is really a rollicking adventure through the 1960's as seen through the perspective of a member of the San Francisco Mime Troupe. Throughout there are cameos from Shirley Clarke (a filmmaker I really admire), Bread and Puppet theater, Black Panthers, Hell's Angels, Students for a Democratic Society (SDS) and the Diggers. There are also references to Commedia Dell' Arte, and Bertolt Brecht. This book felt autobiographical but it is fiction (though influenced by writer's formative years). I highly recommend this incredible and enjoyable read."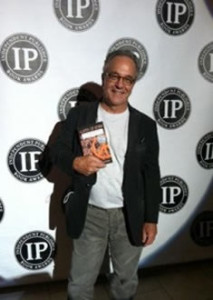 About the Author
Charles Degelman, is an award-winning author, performer, and producer living in Los Angeles. His recent novel, A Bowl Full of Nails, set in the counterculture of the 1970s, collected a Bronze Medal from the 2015 Independent Publishers Book Awards and was a finalist in the Bellwether Competition, sponsored by Barbara Kingsolver. His novel Gates of Eden, set during the anti-war movement of the 1960s, won an Independent Publishers book award, and his first screenplay, "FIFTY-SECOND STREET", garnered an award from the Diane Thomas Competition, sponsored by UCLA and Dreamworks. His first novel, A Bowl Full of Nails, was a finalist in the Bellwether Competition, sponsored by Barbara Kingsolver. He is on the Faculty of California State University where he teaches writing in the Television, Film, and Media Studies/Communications Studies program. He lives in Los Angeles with his companion on the road of life and four cats.