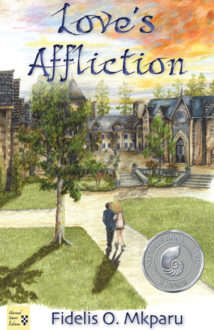 Love's Affliction
Indie Fab Book of the Year Finalist
Joseph Fafa of Nigeria has high hopes when he begins his premed studies at a North Carolina College. But his love for the beautiful and talented daughter of a prestigious Southern family threatens to destroy his dreams of becoming a doctor. Will he escape the power of an irate father and hold onto his youthful love, a flare of illumination sparked amidst the clash between two cultures?
Love's Affliction braves the limits of romantic love, overcoming barriers, and pondering how the dreams of our youth can temper and deepen our foundations.
Praise for Love's Affliction
"An exceptionally well crafted work, Love's Affliction is an engaging and extraordinary multi-cultural novel that documents author Fidelis O. Mkparu as a talented, first class storyteller. Love's Affliction is very highly recommended for personal reading lists and would prove to be a valued addition to community library Contemporary Fiction collections."
"Loves Affliction is a poignant and emotional story of young love as it transforms from friendship to forbidden love, despite the cultural and racial barriers dictated by society."
—Laurie Bedigian, Detroit Daytime Talkshow Examiner
"The magnetism between the lovers is immediate and strong. Mkparu does a stellar job not only developing their individual personas, but then also incorporating them within an intense need-based relationship. Mkparu underpins a constant theme of racism amid alternating scenes largely between Joseph and Wendy, but also covering other aspects of Joseph's life as well. One striking aspect is the cultural differences between the lovers. For example, Joseph understands bigotry from a religious standpoint, because he has lived through civil war (between Muslims and Christians), plus has lost loved ones in the process. That said, Joseph has a totally different perception of the phrase "Campus Crusade," compared to what Wendy acknowledges as a Christian revival service. A must-read, Love's Affliction is an exceptionally gripping and poignant story. While intense throughout, there is resolution – and not quite what one may expect!"
"The brilliance of Mkparu's novel is in its exploration of our humanity and the frailty of even the brightest of us. He tantalizes the reader all the way, teasing and tossing both wisdom and seduction with ease. It's destined to be a landmark in the African migrant literature…. A reader will never look at an African migrant again and not wonder what he or she has gone through. It will leave the reader with greater sympathy for the African migrant long after he or she has put down this book. For the migrant reading it, he or she will find reasons to cheer for Mkparu has brought his or her story home. If you love great country music, you will love this book."
—Rudolf Ogoo Okonkwo, Sahara Reporters
"…the novel casts an eloquent and shameful spotlight on Southern attitudes toward interracial involvement."
—Foreword Reviews
"Love's Affliction is a must-read book. It is part of a growing African migrant literature produced in the United States and dealing with important themes such as student-life abroad, love, romance, and cross-racial or cross-cultural encounters. The writing is very alluring and compelling, revealing the sophisticated nature of a new type of African literature from the United States."
—Babacar M'Baye, PhD, Kent State University, author of
The Trickster Comes West
"Finally, a love story that touches the hearts of not just Africans, but all people who have traveled to a foreign land, in search of a better life."
—Ngo Okafor, Actor, Model, Writer
About the Author
Fidelis O. Mkparu was born in Onitsha, Nigeria. He was a recipient of Reader's Digest Scholarship. A Harvard-trained cardiologist, he has published peer-reviewed scientific papers and review articles in major journals, and written articles for lay people on medical issues. He was inducted into Paul Dudley White Honor Society by Massachusetts General Hospital, Harvard Medical School, where he was a Spaulding fellow. He lives in Canton, Ohio.