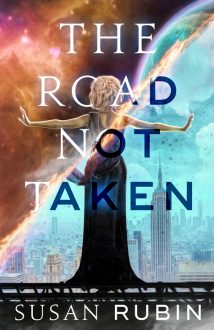 The Road Not Taken
by Susan Rubin
Request a review copy of The Road Not Taken, by Susan Rubin
This is the story of a woman who is suddenly widowed at 50. Left with money but no direction to her life, she moves back to the West Village where she grew up. She is deep in transition from suburban housewife to living in the big city with a child from whom she is emotionally detached when she meets a woman who appears to be her identical twin. The woman is in fact, a member of the Lost: a group of 100 fully formed people dropped off on earth as it cooled down – they have lived on the planet as it developed the many species and geography of today.
The Lost show her the myriad dimensions of Time and Space, taking her to mythic lands: ancient Egypt as well as very real places from the past, Weimar Germany. They show her planets without inhabitants, and introduce her to loved ones she has lost to death. Having casual affairs with Osiris of Egypt, being raped by his brother, Set, finding a lover among the Lost, she lives many truths that are new to her.They walk with her into a painting of a house in Arles and meets Vincent Van Gogh. In her friendship with "Vincent" she learns who she needs to become.
But it is her friendship with Vincent that drives her deeper into an exploration of the world. Vincent grieves for his paintings – his poetry, heartbroken to discover they have been sold to rich people for huge sums of money. Deborah (our protagonist's new name) joins with painters of the 19th century who can make exact copies of Vincent's paintings – the ones that sit in back bedrooms of the ultra-rich. Berthe Morisot, Monet, Matisse and Otto Dix join in the project until all of Vincent's high jacked paintings have been recreated. Then Deborah calls on her mother, who is dead, but who was a fundraiser and organizer in her lifetime.
Together with her Lost alter ego, now called Vita, the three of them scheme successfully to steal all of Vincent's paintings and replace them with unimpeachable copies. In the course of this process, Vincent encourages Deborah to find her own talent, and her Contract with Creation: things she has never sought. As the story unfolds, Deborah must figure out what she did with the first half of her life, why she never attached to any real study or creative endeavor, and what she can do now to walk The Road Not Taken.
"Playwright Rubin's debut novel is a complex story that uses science fiction as a literary device, like Vonnegut did in Slaughterhouse-Five…. Like the poem it's named for, this story is the re-framing of Deborah's past life in the context of her current one, a kind of coming-of-age story for a woman entering mid-life with nothing to hold her back from what she might become."
"The compelling story, told with effortless grace, of a suburban woman driven to become a warrior, a hero, a priestess."
—Ms Magazine
"Do the creatures of Earth have enough ability to learn to be nonviolent yet still artistically creative so our planet can be saved? Only Deborah can judge. With its mishmash of Freudian theory, Egyptian mythology, self-assured characters, and meandering plot, this book is mostly for fans of New Age fiction."
"An inherently and absolutely fascinating science fiction novel by an author with a genuine flair for original and the commendable ability to hold the reader's fully entertained attention from first page to last, "The Road Not Taken" by Susan Rubin is an extraordinary treat for all dedicated science fiction fans and unreservedly recommended for community library Science Fiction collections."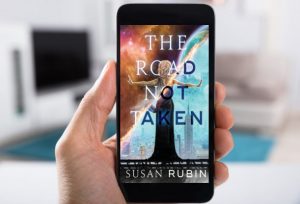 "Susan Rubin's The Road Not Taken offers a magical tale of transformation and joy. A pleasure to read."
— Alicia Hoge Adams, Artistic Director, Bootleg Theater, Hollywood
"The Road Not Taken by Susan Rubin is a unique work of magical realism. It is filled with fantastic imagery, irony, and amazing ideas. This book sits next to Isabelle Allende and Neil Gaiman on my reading table. If you want to take a unique journey, filled with humor, fantastic imagery, ideas, and irony, grab a copy."
— Luisah Teish, author, Jambalaya
In the News
Podcast: Dr. D's Social Network talks to Susan Rubin, author of The Road Not Taken
Ms. Magazine Article: "Susan Rubin Wants More Women to Explore The Road Not Taken"
BookPleasures.com Interview: "In Conversation With Playwright & Novelist Susan Rubin"
JB's Bookworms Brandy Mulder Interviews Susan Rubin
Blog posts at SusanRubinWriter.com
About the Author
Rubin's writing talents range broad and deep: her Funny or Die sketches have survived to amuse readers for nearly a decade. In contrast, Rubin has written over two dozen documentaries that deal in the unfunny issues facing women worldwide: Domestic Violence, Forced Child Marriage, Untested Rape kits accumulating in police evidence rooms by the tens of thousands. In each documentary, Rubin has used her skill, empathy, and compassion to render these darkest of topics into accessible films distributed to tens of thousands of college classrooms, to educate young people about the gravity of the situation for women in the USA and worldwide.
As a playwright, Rubin has been the recipient of 20 years of Los Angeles County Arts Commission Grants and Los Angeles Cultural Affairs Department Grants. She also was honored with a six-year residency at the prestigious Los Angeles Theatre Center.
Her plays have been seen at New York Theatre Workshop, Baltimore Cen-ter Stage, and at every major 99 seat theatre in Los Angeles including co-productions with Bootleg Theatre, Circle X, Skylight Theatre to name a few. She is the recipient of Garland, Ovation and LA Weekly Awards for her plays and the critical response has been exceptional, for example:
"In its mythological themes, modernist irony and imaginative visual styling, 'Liana and Ben' is something of a companion piece to Circle X's memorable 2006 production of Sarah Ruhl's 'Eurydice'."