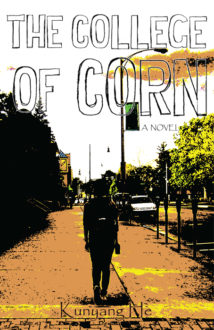 The College of Corn
by Kunyang He
A tragicomic story set in a Midwest university town, The College of Corn portrays a community of overseas Chinese students and immigrants, and three fledging young woman scholars — one from Taiwan, one Mainlander, and one Hong Konger — experiencing early adulthood, the reality of the American dream, commercialized education, and romance in a troubled country and flawed academia.
Rachel, a Ph.D. student from China and the chief editor of a "notorious" local Chinese newspaper has been using the paper as a weapon for scathing criticism and as a channel for underdogs' grievances. She is struggling with budget deficit and continual threats from the authorities and her own compatriots. The story is told from the point of view of Alex, the newspaper's graphic designer and Rachel's secret admirer. While the newspaper is short-staffed and facing another severe cutback, Alex meets the daughter of a Taiwanese tycoon, a stellar young scholar, who can write and seems the solution to both the problems of the paper and Alex's unrequited love, until events take an unexpected turn.





"A Chinese Ph.D. student strives to make sense of American college culture in general and two women in particular. Alex, the narrator of He's debut, is a listless doctoral student studying art history at an unnamed Midwestern university (though it closely resembles the University of Illinois at Urbana-Champaign), where he works as a designer on a 'notorious' weekly Chinese-language campus newspaper. He's one of the few stable staffers thanks to the domineering leadership of its editor, Rachel, who browbeats aspiring writers out of the office when she isn't writing ill-considered op-eds. (She takes a blame-the-victim stance toward battered women in one piece, for instance.) But the paper has a booster in Alice, the daughter of an international manufacturing tycoon, who quickly captures Alex's attention, and their relationship deepens after she separates from her abusive boyfriend. Alice is hard to trust—is her father actually wealthy? Did she really go to Harvard?"
—Kirkus
"The College of Corn captures the rhythms and textures of the lives of international students at a large midwestern university while telling a story filled with humor, pathos, and truth. Kunyang He writes with wit and a sharp eye, bringing the characters to life. The story grabbed me. I couldn't put it down, and after I finished it I felt like I had a personal relationship with the people in the story."
—John Nerone, the author of The Media and Public Life: A History
About the Author
Kunyang He is a Chinese author writing in English. He has written two independent films and one documentary featuring the new generation of Chinese immigrants and international students in the States. He is also a translator and an English teacher, who takes teaching very seriously. The College of Corn is his first novel.