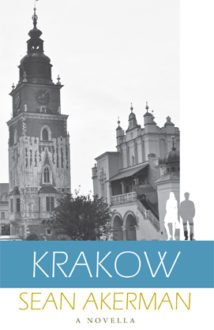 Krakow
A debut novella by Sean Akerman
Sean Akerman's crisp, evocative voice lays bare vulnerabilities, wonder, and mystery. With deep attention to his characters' psychologies, he creates men and women who linger in your mind long after you finish reading. His novella, Krakow, does just that.
A man moves into a Brooklyn apartment and finds the journals left behind by the previous tenants. As he reads the journals, he discovers two people wrestling with why and how their love disappeared. Krakow is set in the present day, amid the streets of Brooklyn. Its concerns will resonate with readers young and old, telling a timeless story of how lovers become strangers.
Working in the novella form, Akerman is able to move swiftly over a landscape of heartache and hope. It is this sort of writing that is re-establishing the novella as a potent form of storytelling in contemporary literature.
Suitable for all ages, Krakow points to Sean Akerman as a force to be reckoned with in American letters.
Praise for Krakow
"With Krakow, Akerman presents characters to be explored through their writings and interrelation, all of whom become fully realized and complex, flesh-and-blood people. As such, readers will alternately care about them, empathize with them, dislike them, and get frustrated by them. We join in their victories and defeats, their regrets and yearnings, and their complicated lives. It remains a testament to Akerman, with the notion that what is written lingers in the mind of the reader long after the book has ended."
"Krakow is an intensely literary text that rewards the reader's close attention to the nuances of thought and feeling experienced by the struggling couple, described with hermetic, elusive prose. Akerman is particularly skilled in delineating the distinctive voices of his protagonists, as well as their conflicting perspectives and needs. The woman's journal entries are especially impressive: her self-understanding and powers of self-expression contrast vividly with her partner's chopped-up, disconnected evasions and retreats. Krakow is also a New York story: the various quarters of the city, its streets and bars, the girdling ocean, are an enfolding presence, pierced only by a moment's betrayal in another city and, above all, by a mysteriously significant visit to Auschwitz, the connotations of which are powerfully suggestive. Devotees of the contemporary American literary movement will respond with enthusiasm to this exemplary novella."
"Even if love ends, the marks it leaves are indelible."
"This short novel captures beautifully the twilight of a relationship: the doubts we have about our partners, about ourselves, and our pain at having to leave something so familiar yet wrong."
About the Author
Sean Akerman grew up in rural Maine and moved to New York City in 2006, where he earned a PhD in social and personality psychology. He has taught at Hunter College, Sarah Lawrence College, and Bennington College. In 2015, he moved to the North Woods, where he writes and edits full time. His poetry and prose have appeared in Main Street Rag, Delivered Magazine, and Theory & Psychology, among other locations.