Next Generation Indie Book Award finalist
The Landmark Prize for Fiction finalist (under the working title, Intensia)
Invictus, by L.L. Holt
A timely novel on how the young musician overcame prejudice to become an international phenomenon as the entire world celebrates the 250th anniversary of Ludwig van Beethoven's birth
L.L. Holt talks about her diverse, historical novel, INVICTUS,
on Princeton TV's "Backstory"
Hosted by sociologist and educator Joan Goldstein, the program will explore current issues of the day, both national and local, with guests invited for their expertise or particular viewpoints. One of the largest public producers of original content in New Jersey, Princeton Community Television is a Public, educational, and government access (PEG) cable TV channel in Princeton, New Jersey. Mon. at 7:00 am, Wed. at 8:30 pm and Sun. at 5:30 p.m., the station is carried on Comcast channel 30 and Verizon FIOS channel 45 in the Princeton, New Jersey area.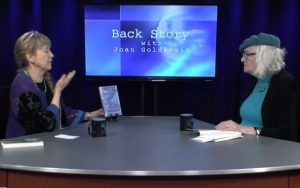 The year was 1770, the place, Bonn, Germany. A drunken father took his first look at his baby's dark complexion and lost his temper. The mother insisted the child was his. This was the beginning of a youth filled with anxiety, prejudice, and uncertainty for young Luis. We know him as Beethoven.
Descriptions by neighbors and friends often begin, "He was black," meaning darker than others, and therefore subject to discrimination in the German north. Was Beethoven black in contemporary terms? There is little doubt that the child, perhaps with Moorish roots, who grew up under the thumb of a domineering, alcoholic father, did not look like other members of his family, nor even his community. We may never know why.
Invictus, a new novel by L.L. Holt published by Harvard Square Editions, takes Beethoven's otherness as a point of departure as it explores the child's journey from birth to a series of setbacks in his 16th year. But the obstacles and catastrophes that the resilient child navigates are not the final word: we know how this story will end.
Invictus is woven through with several other themes rooted in the revolutionary age in which the boy lived. This was an age in which European scientists were exploring the notion of race and reason. While young Beethoven (known as "Luis" in this story) was growing up, a scientific experiment was taking place in Kassel, less than 200 miles away, in which Africans were kept without their permission and subjected to tests. Most eventually died in the cold northern climate. Yet, at the same time, there were other scientists who asserted that race as we think of it did not exist, and that truly, as Beethoven was to declare through Schiller's Ode to Joy late in his life, "All men are brothers."
Another theme is the rise and fall of the Illuminati, which originated in Germany and spread north. Beethoven's childhood teacher, Christian Neefe (NAY fuh), was the head of the local Illuminati chapter, soon to be outlawed, with death a penalty for membership. Many believe the great composer was a Mason and Illuminati member, a position this book upholds and explores in scenes filled with intrigue and adventure.
Luis falls in love, gains a champion, and is sent to Vienna to expand his gifts in this fictionalized view of his early life seldom previously explored, but must return to parochial Bonn when his mother, the only person who truly loved him, is on the brink of death. She dies, his sister dies, his father sinks further into alcoholism. Yet, something stirs within his heart. And from the other side of history, we know his dreams have not been in vain.
Praise for Invictus
"This book is spot on to the contemporary issues of today's world. A blend of historic fact and fiction, Invictus tackles many of the big issues of our time: bigotry, bullying, and prejudice. The Beethoven we thought we knew is a pale shadow of the genius he became. Adversity helped ignite his extraordinary gifts, inspiring each of us to reach beyond obstacles to embrace our dreams. I loved this book and its message for today of courage, determination, perseverance, and hope."
—Don Browne, Executive VP NBC Network News, ret., President of NBC's Telemundo Network, ret.
"An absorbing novel about the young Beethoven and the circumstances that shaped his musical career. Especially interesting because it takes seriously the implications of 18th century racism and rumors about African ancestry in Beethoven's family."
—K.M. Reeds, historian of biology and medicine
"L.L. Holt captures an exciting time in history when revolution was in the air, and an intense debate about race and equality raged in universities, salons, and secret societies. Well-written and engaging."
—Lina Genovesi, Ph.D., J.D.
"In Invictus, Holt makes precise references to Joseph Bologne, aka Le Chevalier de Saint-Georges, whose life as an 18th century Black composer and swordsman in Western Europe is an important reminder that sometimes you have to excel in many different fields in order to survive. And still, the accomplishments can and will speak for themselves decades, centuries after the fact."
—Le Chevalier de Saint Georges Facebook page administrator
"Invictus embodies the spirit of the Age of Revolution in this tale of a young boy breaking free from obstacles of poverty and prejudice."
—Kairy Koshoeva, concert pianist
About The Black Spaniard by L.L. Holt:
In her wonderful new novel, L.L. Holt captures the dynamic magic of Beethoven and his music.  She is able to recreate the original sounds of Beethoven's fingers on the piano as well as the nature of the characters who surrounded him in his climb to fame as one of the most original composers.
"This novel reimagines the surprising backstory behind Beethoven's early years, bringing its scenes to life as only fiction can. The result makes for intriguing reading."
—Winifred Hughes, author of The Maniac in the Cellar: Sensation Novels of the 1860's
"Beethoven is a unique character and this book captures that quality. Great reading and informative background offer an experience that is both entertaining and educational. Ms. Holt deserves great accolades for this excellent novel on a highly engaging perspective of musical history."
–Dr. David Ryback, author of Beethoven in Love
Top customer reviews from Amazon.com:
5.0 out of 5 stars Enjoyable for readers of all ages!
"A fresh, entertaining view of Beethoven for young readers and adults alike. Told in semifictional style, it focus largely on his early triumphs in his twenties as the champion piano virtuoso of Vienna's music scene. The 'black Spaniard' refers to Beethoven himself for his dark complexion and black hair. He's called "Luis" instead of the German "Ludwig," and he's fairly likeable, his famous tantrums are toned down. We follow him through the onset of his tragic deafness and the composing of his heroic Third Symphony. In this story, the black Spaniard is the real hero."
–musiclady
5.0 out of 5 stars A gripping tale of arrogance, dissolution, and redemption
"A gripping tale that turns the tables on our expectations about Beethoven. What, if as so many believe, he was Black? What if he was a revolutionary in the Illuminati and Freemasonry? What if the Immortal Beloved was someone we never expected? The novel blends factual information with flights of imagination and fancy to present a compelling portrait of the composer during a dozen years in which he first arrived in Vienna and learned he was losing his hearing at an alarming rate. An inspiring story for all who seek to overcome prejudice and oppression and never to surrender their ideals." 
5.0 out of 5 stars Definitely worth the read and comes from a great small press
"Holt's book envisions the life of Beethoven in a way that I couldn't have imagined myself. Definitely worth the read and comes from a great small press."
More Novels by L.L. Holt:
The Black Spaniard (2016)
Written as Simone Marnier:
White Tiger, Green Dragon (2000)
Black Tortoise, Red Raven (2006)
Tigre Blanco, Dragón Verde (2007)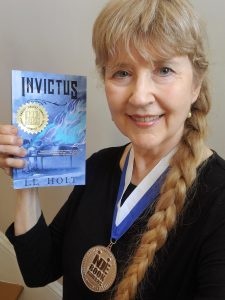 About the Author
L.L. Holt is a Humanities professor and author of the international prize-winning novel, Invictus, about Beethoven's overcoming discrimination to enter the world stage, and The Black Spaniard, a novel about music (Unsolicited Press, 2016). She has a doctorate in Arts and Letters from Drew University and reviews classical music for Fanfare Magazine, Bachtrack, Concertonet, and Broad Street Review, and her articles have appeared in New York Classical Review. Following a successful career in communications, she is devoting herself to writing about the inspiring power of music as well as the common ground shared by eastern and western spiritual traditions. Holt lives in New Jersey.