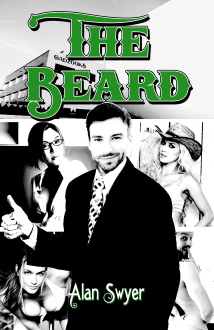 To advance in a SoCal world of extreme wealth and
ruthless ambition, a Jersey boy uses guile to substitute
for a lack of connections
This Wednesday, March 30th, at 8:30 PM
Alan Swyer will be on KPFK 90.7 in Los Angeles—or KPFK.org on the internet—
speaking about his new novel THE BEARD. Tune into Poets Cafe to hear Alan
interviewed by the one and only Billy Vera.
The Beard flourishes in a Santa Monica-based internet empire, where young interns grovel at the feet of multimillionaires in the hope of moving up the food chain. Our protagonist is Calvin, who comes to realize that his purpose is mainly as filler, with little chance of promotion, while competing against the sons and daughters of the wealthy and well-connected, unless he finds a way to become indispensable.
Alan Swyer has been writer, director, and/or producer on films ranging from HBO's award- winning "Rebound" to "The Buddy Holly Story;" "Alfred Hitchcock;" and the award-winning "Spiritual Revolution." Among his other work is "Beisbol," Imagen Award winner for best feature-length documentary, "It's More Expensive To Do Nothing," and his newest "El Boxeo," available now on Amazon Prime. In the world of music, among his productions is a collection of Ray Charles love songs, plus countless liner notes. His short stories have appeared in England, Ireland, Germany, India, and in several America publications. His novel The Beard will be published by Harvard Square Editions in April, 2016. He has been a faculty member at the American Film Institute and the University of Southern California, and has taught writing-directing workshops in France (l'Universite de l'Ete) and in Singapore. His film "Saint-Tropez" is slated for production next September in the town made famous by Brigitte Bardot. Listen to Director Alan Swyer talk about his film El Boxeo on Bad Culture Radio
Events
Monday evening April 4th
Book Soup in West Hollywood will host Alan Swyer
for a booksigning and reading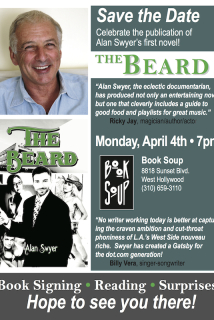 The Beard

by Alan Swyer
Release date: April 2, 2016
Genre: Fiction, Suspense
Price: $22.95
ISBN: 978-1-941861-12-7
"MUSIC PRODUCER/filmmaker/manager Alan Swyer has finally kept a promise he made long ago to the late, great Ray Charles. The two men became friends while Swyer was producing an album for the soul legend. Ray was fascinated by Swyer's abilities as a storyteller, his many adventures and projects (managing Ike Turner, writing and directing "The Buddy Holly Story," making music videos and commercials.) 'You gotta promise me to write a book!' Ray exclaimed. Swyer said yes, but nothing came of it, until, well — now. While he was finishing 'From Harlem to Hollywood' a documentary about singer/songwriter/author Billy Vera, he also began to write. And on April 2nd Swyer's comic novel The Beard will debut from Harvard Square Editions. It's been described as 'an insider's guide to the cutthroat phoniness of L.A.'s west side nouveau riche.' Novel or not, one can be sure Alan Swyer's adventures protecting his own throat from being cut will be melded into the fiction."
—Liz Smith, New York Social Diary
"No writer working today is better at capturing the craven ambition and cut-throat phoniness of LA's West Side nouveau riche. He's a master of this milieu. This time he's created a Gatsby for the dot.com generation! There's no way this won't be a movie!"
—Billy Vera, singer-songwriter of "At This Moment" and other hits
"Jersey guy goes to LA, climbs corporate ladder by minding gorgeous mistresses of bosses, but wants true love and meaning. A novel idea."
—Larry Merchant: TV sports commentator/columnist/author
"Wow. Whatta ride! Alan Swyer has captured the ambition, the energy, the vibe of today's Wannabees in a wildly colorful yarn that rings all too true."
—Lawrence Turman, producer of "The Graduate"
"A wild, fascinating ride all around Los Angeles as Swyer, with a biting satirical touch, lifts the veil on those primarily adept at creating wealth for themselves and the soullessness that ensues. After reading this fast-paced gem of a novel, you may never visit a search engine again without wincing and wondering about the core values of those increasingly in control of the ways in which we communicate."
—Harvey Araton, author of New York Times bestseller Driving Mr. Yogi
"The Beard is a comic novel about a working-class Jersey boy trying to find his identity in Los Angeles, even as the world seems to gang up against him. Swyer offers a contemporary reimagining of Billy Wilder's The Apartment that highlights the glitz, folly, and hubris of the tech industry and its giants."
—Steph Cha, Author of Follow Her Home
"Alan Swyer is one of my favorite contemporary writers, especially when it comes to music and Hollywood. The Beard contains some of one and a lot of the other, with the character and personality to complement both. Writing with the savvy of an insider, he nonetheless also has the sense of humor, irony, and cynicism about Hollywood that connects with Everyman."
—Marian Leighton Levy, co-founder Rounder Records
"Alan Swyer, the eclectic documentarian, has produced not only an entertaining novel, but one that cleverly includes a guide to good food and playlists for great music."
—Ricky Jay, magician, author, actor
"Swyer has woven a mischievous tale with as illuminating and biting a character study as 'The Apprenticeship of Duddy Kravitz'. Deftly told and magnificently structured story with remarkably memorable characters and riotous humor throughout."
—Brin-Jonathan Butler, author of The Domino Diaries
Interviews with Alan Swyer
Interview on WOR 710
Recent publications
Soon to be a Major Motion Picture
Films