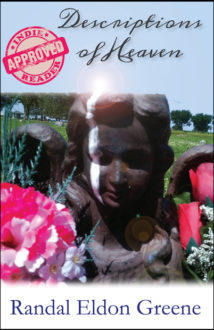 Descriptions of Heaven
by Randal Eldon Greene
A Indie Reader Approved title
Thursday May 18th, 2017 – Reading at Blue Cafe 1301 Pierce St, Sioux City, Iowa – 5:00 p.m. – 7:00 p.m.
Saturday April 22nd, 2017 – Barnes & Noble Book Signing, Southern Hills Mall, 4400 Sergeant Road, Sioux City, Iowa – 1:00 p.m. – 3:00 p.m.
Friday October 28th, 2016 – John R Milton Writers Conference, Muenster University Center – Rm 211/211A
On the Campus of the University of South Dakota, 8:00 a.m. – 9:30 a.m.
Randal Eldon Greene will be reading from his forthcoming novella, Descriptions of Heaven. Greene will be joined by Leslie J. Claussen, Kathryn Wohlpart, and Jen Corrigan who will also be reading selections of their fiction. A Q&A and discussion on writing will follow the readings – Register here
An linguist, a lake monster, and the looming shadow of death—news of an unknown creature in the New Bedford Lake coincides with news that Natalia's cancer has returned.
On the shores of the lake in a strange house with many secret doors, Robert and his family must face the fact that Natalia is dying, and there is no hope this time. But they continue on; their son plays by the lakeside, Natalia paints, Robert writes, and all the while the air is thick with dust from a worldwide drought that threatens to come down and coat their little corner of green.
A lament for what is already lost and what is yet to be lost, Descriptions of Heaven leaves only one question to be asked: What's next?
"Randal Eldon Greene's novel Descriptions of Heaven is a courageous and unflinching story about the mystery at the center of human life—death—and the stories we tell to make sense of its brutal reality…. This is an accomplished work. Greene has addressed a great deal of material in a short space. His story is physically minimal while his prose, and the ideas and situations it conveys, are expansive….a thoughtful and emotional novel that examines with intelligence and compassion the deepest levels of human suffering and loss."
"Some authors tell great stories with drab prose, and some have striking prose, but no real story. Greene nails both."
"Descriptions of Heaven is an admirable sort of quietly suspenseful literary novel; its prose flows without awkwardness, and heartrending gothic secrets are revealed in due course as the philosophical narrative unfolds."
—Kevin Polman, author of The Extra Key
"From the very first pages, I saw the lives of these characters like a shattering mirror. All those details which make everyday life normal will be torn apart in front of the characters, leaving them unable to do anything but wait for that final dreaded moment and afterwards try to move on."
"I loved the author's prose and his style in general. Greene makes poetry of his prose and commands the page. For that reason alone, it was a joy to read."
"Let yourself get involved, and you may be pulled in by the linguist's efforts to use the tools of his craft—words—as aids in his search for answers to his son's (and his own) questions about why Natalia is dying and where she is going."
"What's surprised me is how such a short book has left lasting thoughts. Greene's use of words has evoked such vivid images and thoughts that I find I'm contemplating life and death myself. An interesting and thought-provoking read."
—Happymeerkatreviews, C.
Articles by Randal Eldon Greene
About the Author
Randal Eldon Greene's short fiction has appeared in VLP Magazine, 34thParallel, as|peers, Unbroken Journal, NPR online, and elsewhere. Greene holds a degree in English and Anthropology from the University of South Dakota. He is a volunteer judge of fiction for Heart & Mind Zine and works full time as a seeing eye human for his blind dog, Missy. Greene lives in Sioux City, Iowa. His typos are tweeted @authorgreene and his website is found at authorgreene.com