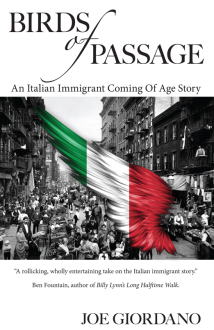 Birds of Passage
An Italian Immigrant Coming of Age Story
May, Joe Giordano Readings in Manhattan for Birds of Passage, an Italian Immigrant Coming of Age Story
6.30 PM, Thursday, May 12- Italian American Museum – 155 Mulberry Street – Tel.: 212.965.9000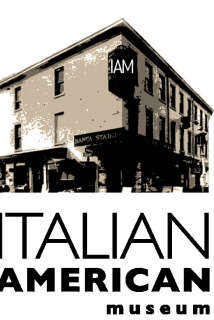 Reading at 5.45 PM, Saturday, May 14 – Cornelia Street Café – 29 Cornelia St. (On Cornelia just off Bleecker Street)
Reading at Malvern Books, March 10, 7 – 8 p.m. 613 West 29th Street, Austin, TX 78705 Ph: 512-322-2097 info@malvernbooks.com
What turns the gentle mean, and the mean brutal? The thirst for wealth? The demand for respect? Vying for a woman? Birds of Passage recalls the Italian immigration experience at the turn of the twentieth-century when New York's streets were paved with violence and disappointment.
Leonardo Robustelli leaves Naples in 1905 to seek his fortune. Carlo Mazzi committed murder and escaped. Azzura Medina is an American of Italian parents. She's ambitious but strictly controlled by her mother. Leonardo and Carlo vie for her affection. Azzura, Leonardo, and Carlo confront con men, Tammany Hall politicians, the longshoreman's union, Camorra clans, Black Hand extortion, and the Tombs prison.
Order
Birds of Passage, An Italian Immigrant Coming of Age Story
by Joe Giordano
Release date: October 8, 2015
Genre: Fiction, Historical, Suspense
Price: $22.95
ISBN: 978-1-941861-08-0
Order
"We the Italians" has published Joe's article on Italian immigration on page 71 featuring Birds of Passage, An Italian Immigrant Coming of Age Story
Black Heart Magazine author interview with Joe Giordano
Joe Giordano's blog on Italian history
Author interview in the "Bartleby Snopes" blog
The Writer's League of Texas, Author Interview
Fewer than 500 interviews Joe Giordano
Primo Magazine interviews Joe Giordano
"This riveting debut novel by Giordano charts the passage of two young Italian men to early twentieth century New York, as they strive to make their mark in the New World…. Part thriller, part love story, part coming-of-age narrative, this book's appeal reaches successfully beyond the often restrictive confines of its genre. A refreshing rethink of the archetypal mafia novel."
"With a landscape stretching from Naples, Italy, to New York City, the pages of this compelling narrative create vivid images of the Big Apple's Italian immigrants and their struggles in America, for better or worse….With a New York City cast of gripping personalities, including Lower East Side gang leader Frank Rizzo and union boss 'Big' Jim O'Neil, there's no shortage of machinations."
—Ambassador Magazine, Winter 2016
"Remarkably visual and audible. You will swear you've seen it. The book is a raw and beautiful saga that will transport you across oceans, cultures and generations."
"If you had the means to change your destiny, would you do it? …What begins as a simple tale of immigrant hopes and dreams quickly evolves into a story of destiny: how we change it, how we defy it, and how we accept it."
"This novel has all the ingredients you need to enjoy an excellent read. It is beautifully researched and I guarantee that you will feel as though you too are experiencing the streets of New York – and the lives of the Italian immigrants – as you read."
"An enjoyable historical novel"
"Giordano illuminates the murky worlds of organised crime and organised labour and the plight of migrant populations as they try to unlock the promise of the American dream. He paints some vibrant images of the migrant experience, from the marina at Naples where "the sun broiled humanity like chops on the grill"; to the traumatic voyage across the Atlantic."
—Richard Hough, Notes from Verona
"Imagine the mania of the rhizomic cesspool that was turn-of-the-century New York City for shivering masses wandering through the gates of Ellis Island, receiving new names, becoming homeless for the first time in their lives."
"With Birds of Passage, Joe Giordano delivers a rollicking, wholly entertaining take on the Italian immigrant story. His rich cast of characters arrives seeking the usual: Money, honor, love, respect, a decent shot at the pursuit of happiness. But things get complicated fast as they plunge into the rough-and-tumble world of rackets, scams, and politics of early 20th-century New York City. Giordano serves up a thick, satisfying slice of the entire era in all its raw and brutal glory."
—Ben Fountain, author of Billy Lynn's Long Halftime Walk,
"This book rapidly catches your attention and keeps it throughout the book. There a many characters and they are used to paint a picture of this time of change in New York. The corruption was overwhelming and scary for those trying to earn a living. The descriptions are well drawn – you can see the filth of the times and almost smell the unsanitary conditions."
—Carol Early Cooney
More Reviews:
Stephanie Ward

Singing Librarian Books
About the Author
Joe Giordano was born in Brooklyn. Joe and his wife, Jane, have lived in Brazil, Greece, Belgium and the Netherlands. They now live in Texas with their shih tzu, Sophia.
Joe's stories have appeared in more than ninety magazines including Bartleby Snopes, The Saturday Evening Post, decomP, The Summerset Review, and Shenandoah. His novel, Birds of Passage, An Italian Immigrant Coming of Age Story, was published by Harvard Square Editions October 2015. Read the first chapter and sign up for his blog at joe-giordano.com.