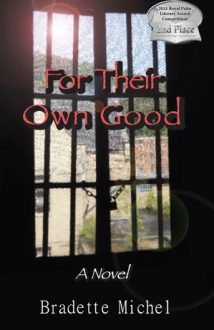 For Their Own Good
Bradette Michel
 Nineteenth century women are committed to an insane asylum for reasons that have nothing to do with their sanity
When New York physician, Adam Fletcher takes the position of medical doctor at the Illinois State Hospital for the Insane in 1857, he quickly realizes the asylum is not a place of healing. His compassion for the women under his care, and his shock at the perversity of their treatment propel him into actions no one could have predicted. Inspired by true events, For Their Own Good reveals the murky, often terrifying world of nineteenth century insane asylums. Touted as havens for patients receiving innovative treatments, the hospitals confined society's powerless, whether insane or not.
Events
Bradette Michel will be presenting a literary workshop, part of the Coral Springs Festival of the Arts, at 11:30 am, Thursday, March 17. The program will be located at the Coral Springs Center for Performing Arts, Room A & B, 2855 Coral Springs Drive, Coral Springs, FL. For more information about the workshops and the other authors go to http://www.csfoa.com/literary-program.html
Bradette Michel will discuss her debut novel, For Their Own Good at the Jacksonville Public Library, 201 W. College Ave., Jacksonville, IL 62650 on September 10 at 7 p.m.
Book signing on September 11, 5 – 7 pm at Our Town Books, 64 East Central Park Plaza, Jacksonville, IL 62650.
Quincy Public Library on Saturday, September 12, 2-3 p.m.
Discussion at Quincy Books, 3:30-5:30 pm, 3382 Quincy Mall, Quincy, IL 62301
Michel will discuss manuscript critiquing with the Quincy Writers Guild on Monday, September 14, 6:30 pm at John Wood Community College.
Bradette Michel will discuss her debut novel, For Their Own Good at the Sunrise Dan Pearl Public Library 10500 W. Oakland Park Blvd, Sunrise, FL 33351 on Tuesday, September 29, 6-7 p.m.
Main Library, 100 S. Andrews Avenue, Fort Lauderdale, FL 33301on Tuesday, October 13, 6-7 p.m.
Reviews
"In the end what is presented isn't your usual one-dimensional portrait of abuse, but a social commentary that uses the asylum environment to pinpoint attitudes, beliefs, and rationales behind mental illness treatments and socially acceptable behaviors: a powerful survey that brings physician and patient perspectives to life and leads Adam on a journey into strange worlds. Gripping and heart-wrenching, For Their Own Good is a pick for any who want both a social and psychological observational piece about asylum life and women's subjugation."
—D. Donovan, Senior Book Reviewer, Midwest Book Review
"Like most excellent historical fiction, Michel's novel uses real events of the times as a backdrop for understanding the struggles that her characters present. The chilling words of the physician who forces his treatment on powerless women is juxtaposed with their often heartbreaking responses. Michel's compassionate telling of women's stories made me want to reach out and pull her characters into a world where their voices could be heard and their power restored."
—Maxine Harris, PhD, Author, Women of the Asylum
"The brilliant presentation of a fictionalized true epoch in the history of American 'therapeutic' intervention holds our attention from first page to last.  As a physician, woman, and lover of great stories, I highly recommend For Their Own Good."
—R. S. Lipkind, M.D.
About the Author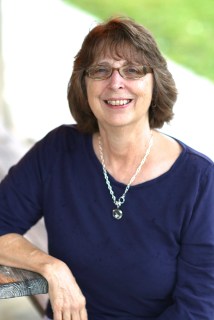 Like most of her characters, Bradette Michel grew up in a small town in the Midwest. She loves to read and write stories about people who overcome forces that try to control them, probably because she has a bit of an authority problem.
Bradette flirted with writing fiction for years, creating a rogue short story now and then while trying to make a living. She didn't realize it at the time, but as a counselor, teacher, and trainer she was learning a lot about human behavior, which she now connects with her dark imagination to create plots and characters. Oh, yes, her degrees in psychology and human development counseling help too.
Her decision to tell stories unbound by the truth has resulted in the upcoming publication of her debut novel, For Their Own Good, which won second in the Florida Writers Association's 2013 Royal Palm Literary Awards historical fiction category. Her short story, The Last Ride, was published in FWA's 2012 Short Story Collection #4—My Wheels. She won second place in FWA's 2012 Royal Palm Literary Awards novella category for Solitary. A published non-fiction author of Supervising Young Offenders, she has authored several online courses.
Bradette and her husband Mike live in south Florida.