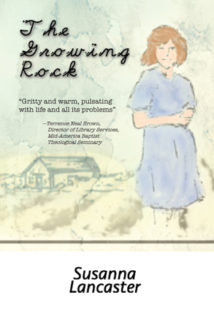 The Growing Rock
by Susanna Lancaster
Susanna will appear at Southwest Tennessee Community College on February 15th, and will be a guest at this year's Ripley Tomato Festival (the same one featured in the book!) on July 13-14.
Past events: Susanna was a guest on Radio Talk, Memphis on December 6th at 10 PM
Book signing and reading at Novel independent bookstore in Memphis, January 4th at 6:00 p.m.
Papa is a good liar—he can tell a fib all the way from Ripley to Nashville to calm everyone down or make a situation seem better, including the Great Depression. But the day he promises fourteen-year-old Caroline that everything will be okay when he leaves the farm to find work elsewhere, she isn't so sure. After all, George told her something very similar not long ago. And they haven't heard from him since.
His loud laugh echoes in her mind, especially in the silence of the cotton fields. How could her favorite brother possibly have died in the Ohio River floods the way the rest of the family says? Now that the women are left to take care of the farm, Caroline has to believe he'll come back. Otherwise, she won't have the strength to do her share of the work while looking after her sickly little sister Phoebe and telling her hopeful stories about the Growing Rock that George always said grew magically larger every summer. But as time moves on, Caroline feels more and more discouraged. Except for the town's strange recluse, she often has no one to talk to. It doesn't help that she feels different now around her best friend Peter, and, on top of everything, her older sister Blanche constantly runs off. When tragedy occurs that threatens to break the large family apart even more, will Caroline give into the hopelessness that has consumed Mama?
"For readers ages 10-14, The Growing Rock is a coming of age story which offers a realistic glimpse into life during the Depression. Caroline is an historically accurate character from a more innocent time. Particularly relatable for today's young readers is her relationship with Blanche, whom Caroline admires despite her selfish behavior. Also of particular tenderness is the budding romance between Caroline and Peter, the boy next door."
"Through rich visual prose and historical detail, The Growing Rock deftly captures life for a young girl coming of age in the cotton fields of the South during the Great Depression. You'll feel a part of those unsettling times, fall in love with Caroline, and be embraced by the warmth of her struggling family."
—Pat Lowery Collins, acclaimed author of The Fattening Hut
"The Growing Rock moves from fairy tale to tough times as Caroline and her family face the Great Depression and fears for Caroline's beloved brother who disappears after leaving home to find work. This gentle coming-of-age story makes you remember moments you've never lived and reminds you we can still find sweetness in the hardest of times."
—Susan E. Goodman, award winning author of The First Step: How One Girl Put Segregation on Trial
"Gritty and warm, pulsating with life and all its problems, The Growing Rock connects previous generations to the millennial generation through trials, love, and rugged endurance."
—Terrence Neal Brown, director of library services at Mid-America Baptist Theological Seminary
"When I was a little girl I was obsessed with anything Little House on the Prairie and anything from that time period or setting because it was such a great series for children to grow up with. I read everything I could about that region and then slowly grew out of that phase. I never realized how much I would enjoy revisiting a book that could very easily fit into my favorite childhood genre, even though they are definitely set in different time periods. And I never thought I'd read a book that would make me want to read Little Women so much. But this book did! Not only was it a wave of nostalgia for me, it was a very incredible book to read. The characters were developed so well without it feeling drawn out."
"While this book contains just 200 pages, it feels like a lot more, in a positive way…it gave me the feeling of The Little House on the Priarie, and the book left me feeling nostalgic!"