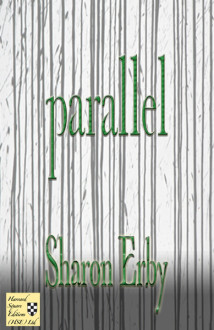 Parallel
Bound by circumstance and tradition, and mocked by the turnpike that bisects their farmland, folks folded into the ridges beneath Timmons Mountain sense the world is literally passing them by and look for ways to catch up: veterans of several wars seek salvation through escape; a female garbage collector reconciles death through correlation; a clinical psychologist relies on a fictional detective to manage his obsessions; a housewife finds the mystical on a mountain top; and a discontented Amish woman faces a fate she believes her duplicity has earned her.
Their tales reveal the resilience of the human spirit even as they evince the paradoxical nature of change.
Sharon Erby: Interviewed by Matt Salesses of The Good Men Project Magazine
Interviewed by Slice
Praise for Parallel
"In the end the web of life becomes well defined and what began as a series of disparate stories connected primarily by a sense of place evolves to a gathering of intermingled experiences shared through the perceptions, hopes and thoughts of the female protagonist. The result is an achievement especially recommended for followers of literary short fiction interested in the mechanics of linking a short story collection's events and characters."
—D. Donovan, Senior Reviewer, Midwest Book Review
"Parallel is full of tension, the slow boiling kind of realism that acts as a mirror to our own consciousness. These characters and these stories are about how to live a life, how to be awake in the world, and how to be connected to it. Erby doesn't provide any answers, and her characters leave messy endings behind them in their wake. In the end the stories here parallel our own American lives, our fragile human hearts."
—S. Scott Whitaker, The Broadkill Review
"We read it with enthusiasm, and experienced the narration and point of view of a working-class woman as strong, unpredictable, and convincing."
—Minnie Bruce Pratt, Feminist Studies Board member
and author of Inside the Money Machine
"Parallel is one of the best linked-story collections I've read in recent years. Erby does for rural South-Central Pennsylvania what Sherwood Anderson did for the town of Clyde in Winesburg, Ohio. Parallel is a classic in its own right."
—Sara Pritchard, author of Crackpots and Help Wanted: Female
"Sharon Erby takes on the plight of those caught in what used to be called Middle Class America, now more accurately, the Working (or undefined) Class — from the wars they have fought to the dead end jobs they endure to the baffling, unrewarding relationships they find themselves in through a sense of duty or inevitability. She tells it through riveting individual stories, and shows what a skilled writer with a good heart can do.
—John Bowers, Author of The Colony
The Research Notes series has invited Sharon to describe her research for her recent book, with "research" defined broadly. Sharon Erby writes about Parallel.
Book Launches:
Wilson College, Chambersburg, PA: Nov. 13 @ 7:00 p.m.
Midtown Scholar, Harrisburg, PA: Dec. 6 from 2:00-4:00 p.m.
Author Bio
A Pushcart Prize-nominated writer, Sharon Erby was awarded the Norris Church Mailer Fellowship while she studied for her MFA at Wilkes University. Currently an adjunct Assistant Professor of English at Wilson College, Chambersburg, PA, she has published creative and critical work in numerous literary journals and magazines, including Slice, Florida English, Feminist Studies, The Puritan, and Kaleidoscope.
She handled an array of jobs—from accounts receivable clerk, to technical editor, to Navy negotiator, to being a mother of four children—before she returned to one of her first passions: writing.