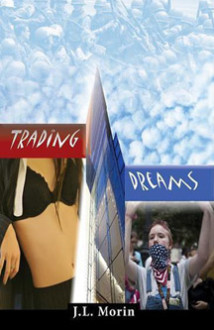 Trading Dreams
by J. L Morin
Harvard Square Editions; 382 pages; August, 2012
paperback; ISBN 978-0983321620
Finally! A humorous novel that throws corruption onto the horns of the Wall Street bull. Trading Dreams slams the cultural & psychological hypocrisy that undermined our stolen economy in a tale that is funny, thrilling and spiritual. Author J.L. Morin unveils the ironies of established Wall Street greed to the baseline of a grassroots Occupy Wall Street movement.
This redemption story depicts the pitfalls of a new-hire at a bank. For Jerry, New York in its heyday means hanging with the guys, finding nothing but users, and developing a sex addiction. When her villain CFO sets her up as a scapegoat for 'robo-signing' mortgages with no paperwork, Jerry fights back. But nothing escapes the villain's greedy clutches, while the economic crisis descends like a praying mantis devouring its mate at the moment of ecstasy. The young career woman teeters spectacularly between life as a trading-floor cyborg and revolutionary battling Wall Street corruption . . . as if she didn't have enough to worry about running from a murderer.
Not one to let homeowners down or push clients to invest in the stocks the bank is trying to dump, Jerry is convinced she can outsmart the machine. With the help of Occupy Wall Street, she spreads the word through the human microphone. There's little prospect of finding another job when Jerry blows the whistle . . .This turncoat story by a native Detroit author got rave reviews:
"…vivid scenes at a kinky sex club on the outskirts of Greenwich Village with references to the bursting economic bubble and the federal government's bank bailout."
"Occupy's 1st bestselling novel"    
Listen to an excerpt
"An ideal read for suspense lovers interested in the current financial crisis."
― Booklist
"No 1 in Amazon's Political Fiction section…Ms Morin's book is a fantastic read."
"…exposing enough greed, hypocrisy, and blatant illegality to make even the least informed reader deliciously angry."

"Trading Dreams is an enticing and humorous read, not to be overlooked."    
 "Superb fiction with a side of harsh reality and a heaping of humor."    

"A compelling mystery that is also a story of personal discovery – as well as an in-depth analysis of the Occupy Wall Street movement and the factors that have created our economic kerfuffle."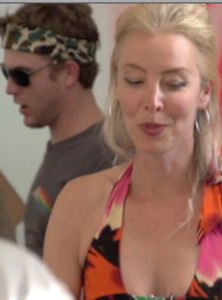 About the Author
Born on a crest of sixties optimism, JL Morin grew up in inner-city Detroit. She proffered moral support while her parents sacrificed all to a failed system. Wondering what the Japanese were doing right, she decamped to Tokyo as an exchange student at sixteen, and then again for her junior year abroad. Her debut Japan novel, Sazzae, written as a creative thesis toward her AB at Harvard, won an eLit gold medal and a Living Now Book Award. Her second novel, Travelling Light, was a USA Best Book Awards finalist, and her third, Trading Dreams became 'Occupy's first bestselling novel'. Her climate fiction novel, Nature's Confession, won First Place in the Dante Rossetti Book Awards, and a Readers' Favorite Book Award, a LitPick 5-Star Review Award, and an excerpt received an Honorable Mention in the Eco-Fiction Story Contest. Morin's fiction has appeared in The Harvard Advocate and Harvard Yisei, and her articles and translations in The Huffington Post, Library Journal, The Detroit News, Agence France Presse, European Daily, Livonia Observer Eccentric Newspapers, and The Harvard Crimson.
JL Morin's writing draws on a breadth of experience. She traded derivatives in New York while studying nights for her MBA at New York University's Stern School of Business; worked for the Federal Reserve Bank posted to the 103rd floor of the World Trade Center; presented the news as a TV broadcaster; and is adjunct faculty at Boston University.