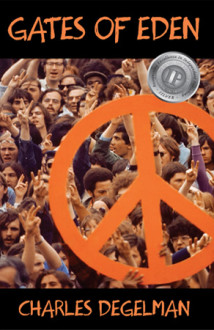 Silver Medalist, Historical Fiction, 2012 Independent Publishers Book Awards
Gates of Eden follows a handful of young rebels as they band together to create the most powerful antiwar movement in history. From their scattered beginnings through a surge to resistance, Gates' colorful characters invite us to join them as they transform "hell no, we won't go," into a celebration of collective action, shared consciousness, sexual revolution, and the realization of their dreams.
Fantastic praise for Charles Degelman's award-winning novel Gates of Eden
"War is not to be waged lightly. Gates of Eden is a novel set amongst the turmoil of the Vietnam War at home, as the Americans of the 1960s decry the unpopular war. Seven rebels unite with others who are dissatisfied with the government and begin to plot against it, daring possibly to go as far as rebellion. With a personal story among each of them, Gates of Eden is a fine novel of the period, very much recommended."
"Gates of Eden is no sentimental apologia for the Sixties. It's the real deal. Charlie Degelman was there, living his life for keeps, moving at the same breakneck pace as his characters. I know. I was there with him."
— Peter Coyote, actor, author, Sleeping Where I Fall
Now on Kindle!