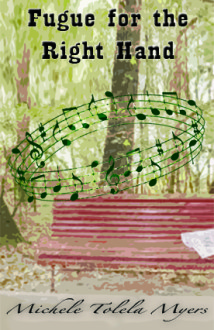 Fugue for the Right Hand, by Michele Tolela Myers
Release date: October 7, 2014
Book Launch: November 12, 7 p.m. at Book Culture, in Morningside Heights, 536 W. 112th, NY 10025;
Reading September 30 at Sarah Lawrence College
ISBN: 978-0-9895960-8-4
Trade Paperback and E-book formats, 164 pages, $19.95
Available through Ingram, Baker & Taylor, Brodart, Amazon, and bookstores every-where
Part political fable, Part a tale of losses and unexpected gains, Fugue for the Right Hand tells a story of hope and hard-won redemption in a fast-paced fugue. The time: the presidential campaign in the Fall of 2012. The place: Manhattan Upper West Side. The characters: a bum who sleeps on a Riverside Park bench, a woman who teaches economics at Barnard College, her boyfriend, her father, and a little girl who lives in Brooklyn and plays the piano. Chance makes their lives intersect over a one-year period, shuffles all the cards and deals a new hand.
With the presidential campaign and Hurricane Sandy as backdrops, Myers deftly raises the question of economic inequalities. With skill and expertise, she creates believable characters whose struggles could be our own. This fast-paced novella will keep you turning pages until the end.
 Listen to an excerpt
Win a free review copy at Goodreads:
"Michele Myers's sharp, spare, timely novella Fugue for the Right Hand is many things—a didactic fiction driven by moral passion and rage at societal folly and injustice, a documentary fiction with the immediacy and fidelity of the best journalism, a satiric fiction about the way we live now. Most deeply, though, it is in its tutelary spirit and its deep sympathy for its characters a fairy tale of sleepers awakening to their own humanity."
—Vijay Seshadri, Poet, 3 Sections: Poems, 2014 Pulitzer Prize for Poetry
"Truly a love story of so many different kinds of love, loss and connection, with the power of that love to lift and redeem. That's a wonderful theme."
—Arlene Alda, Author, Photographer





Author Bio:
Myers' academic career took her from teaching to academic administration at Bryn Mawr College as dean of the College, to Denison University as president for nine years, and to Sarah Lawrence College as president for nine years. Myers retired in 2007 to write fiction full time.
Myers has published extensively in her professional life (non fiction books that have been best-sellers in their markets, scholarly articles, essays). Her opinion editorials on education pub-lished in the New York Times, the Washington Post, and the Christian Science Monitor have been widely circulated and brought her national attention. Her short fiction has appeared in The Reading Room, in Global City Review, and in The Commonline Journal.
Born in Morocco, Myers grew up and was educated in Paris until she moved permanently to the US in 1964. In 2007, she was named by President Chirac a Chevalier de la Legion d'Honneur, the highest honor bestowed by the French government.
Myers lives in Manhattan, Asheville, NC, and Paris. She has completed her fourth novel.