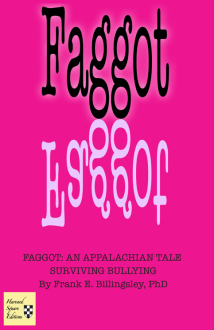 Faggot: An Appalachian Tale
A true story of tragedy,
despair, and hope for the future after surviving
a childhood of bullying
A young adult tale by Frank E. Billingsley
Debut true story on homosexuality, religion, overpopulation, and a boy's desire to fit into a society that has marked him as an outcast.
A teenager tries to make sense of his life. He has turned cold, withdrawn, and depressed. He is different, and everyone knows. He is gay, living in a town that does not understand him. He lives in a family that does not know how to support him. He is abused emotionally, physically, and sexually for years. No one cares. No one helps. Then on one dark rainy night, everything changes.
Share in this story that debates religion, overpopulation, the human condition, and lays the case for the greater acceptance of the LGBT community.
Order
Faggot: An Appalachian Tale

A true story
by Frank Billingsley
Release date: July 9, 2015
Genre: Young Adult non-fiction; Autobiography
Price: $22.95
ISBN: 978-1941861073
96 pages; Trade paperback and eBook formats
Distribution: Ingram, Brodart, Baker, & Taylor, Gardners, Bertrams, Blackwell, B & N, Amazon, and bookstores everywhere
Order
"As a young-adult-oriented memoir, Faggot has been 30 years in the making. As a teenager, Frank E. Billingsley couldn't understand why he was constantly bullied. Depressed and humiliated, he finally manages to find inspiration through a personal revelation on a dark, rainy night. Under 100 pages, this 'Appalachian tale' is ultimately a story of hope. Harvard Square Editions (harvardsquareeditions.com)."
—Outsmart Magazine

"Well written, very inspirational, this book will keep you entertained for hours. I recommend it to the permanent library of all readers who appreciate a novel with a positive message of encouragement for those who feel different"
About the Author
Frank Billingsley, an Ohioan, who considers himself a child of the world, spends time between Europe and the United States. Frank holds a Doctorate in Leadership and Administration, a Masters in Management, a Masters in Human Ecology, and a Bachelors in Psychology. He has over 20 years of professional experience in social work, teaching, administration, and as a university professor.