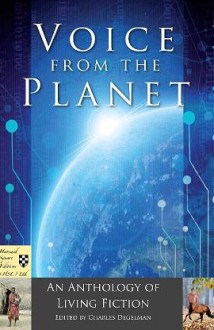 Voice from the Planet
Award-winning and new authors from Congo to Hollywood join forces in Harvard Square Editions' second volume of Living Fiction, and are donating the net proceeds from book sales to the Nobel Prize-winning charity Doctors Without Borders/Médecins Sans Frontières (MSF). Featuring the lauded stories 'The Vale of Cashmere' by Sean Elder and 'Consultation' by Soviet author Ruben Varda about a celestial science class, this book will transport you.
Most anthologies are limited by their themes to a particular town or country, reinforcing entrenched literary nationalism whereby institutionalized literati only appreciate their own. Not Voice from the Planet. This collection of extraordinary voices is unlimited. It will transport you on a globe-trotting adventure from the trauma of African earthquake to a lush glimpse of love in the jungles of Peru.
Break through to war-torn Congo, to American rebellion of the 1960s, to fire dancing in the mountains of Bulgaria, to high finance on 9/11. You'll find the unexpected wit and intelligence enthralling.
The second in a series of anthologies edited by Harvard alumni, Voice from the Planet is generative, opening a forum where readers and Planet authors can engage in cyberliterary dialogue via the Internet. Readers can take part in the dialogue by emailing the authors and chatting on the web at www.harvardsquareeditions.org


'Consultation' by Ruben Varda, a Brussels-based, former Soviet author