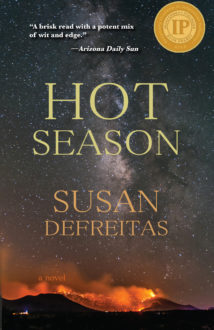 Hot Season
by Susan DeFreitas
"One of 25 Oregon writers every Oregonian must read" –The Oregonian
Featured on Oregon Public Broadcasting (OPB Public Radio), with her writers group,The Guttery
One of the most-listened to interviews on 'Today's Best Writers in Conversation with Host David Naimon', KBOO 90.7 FM Between the Covers podcast
Hot Season was recently featured on the Rose City Reader book blog 3-27-17: Mailbox Monday
More Features and Events

3-30-17: Book Beginning; 4-4-17: Teaser Tuesday; 4-8-17: Author Interview
Spillers interview, "The Voice of Phoenix Fiction"
She was recently interviewed by Portland public radio station, OPB, for a show called State of Wonder, with her writing group, The Guttery: Airtimes TBA.
She is presenting at book clubs this spring
2.23.17 at 5:30 pm Happy Hour with Indigo Editing at Zeus Cafe (303 SW 12th Ave,) Portland, OR
3.26.17 at 2:00 pm Author Appearance at Newport Public Library (35 NW Nye St.) Newport, OR
4.2.17 at 7:00 pm Presentation at Tsunami Books (2585 Willamette St) Eugene, OR
4.7–8.17 at (panel various times) IBPA's Publishing University (Benson Hotel, 309 SW Broadway) Portland, OR
4.11.17 at 7 pm Author Appearance at Broadway Books (1714 NE Broadway St) Portland, OR
4.17.17 at 7:30 pm Group reading for City of Weird anthology at Post 134 (2104 NE Alberta St) Portland, OR
4.18.17 at 7 pm Reading at Annie Bloom's (7834 SW Capitol Hwy) Portland, OR
4.20.17 at 7 pm Group Reading at Another Read Through (3932 N Mississippi Ave) Portland, OR
An outlaw activist on the run. A pipeline set to destroy a river. And three young women who must decide who to love, who to trust, and what to sacrifice for the greater good.
In the tinder-dry Southwest, three roommates—students at Deep Canyon College, known for its radical politics—are looking for love, adventure, and the promise of a bigger life that led them West.
Based in part on real events in the early nineties and mid-aughts—Hot Season explores what Oregon Book Award Winner Cari Luna called "the charged terrain where the youthful search for identity meets the romantic, illicit lure of direct action."
Praise for Hot Season
order
Hot Season

by Susan DeFreitas
Release date: November 1, 2016
Genre: Eco-activist-fiction, Suspense
Price: $17.88
ISBN: 978-1-941861-28-8
order
"A stunning debut novel."
"DeFreitas oscillates between elegant description and coarse dialog, between cool river grove shade and damning desert sunshine. From the unforgiving arid land that baked it, HOT SEASON prospers in the heat."
"Enjoy the gorgeous prose and thought-provoking narrative in HOT SEASON, and wait for the next novel from this talented writer."
"Magnificent. A stunning book."
—Rene Denfeld, multi award-winning author of The Enchanted
"Steeped in a slow-boil sensuality, and the wide-eyed innocence of the young, but also with the suspicion of the status quo, this examination of current climate fears is a must-read."
—Powell's Books
"A true Prescott novel, Hot Season asks big questions — not only about water rights and the importance of riparian corridors in the West, but about what it means to fight for the natural world. Young and idealistic, the three protagonists, Katie, Jenna and Rell, attend Deep Canyon College (whose real life inspiration was our own Prescott College). These three roommates negotiate love and the lure of monkey-wrenching in the time of rumored undercover agents in the classroom. And heat — did I mention the heat? For much of the novel it is summer, the air scorched, the heat palpable. Beautifully written, "Hot Season" sizzles with nuanced friendships, passion, and the search for identity, so malleable during the college years. As DeFreitas eloquently puts it, "All these selves were turning into other selves, burning off in the heat of this strange summer."
"That Hot Season remains universal while at the same time remaining centered on an all female cast of main characters speaks to the importance of diversity in fiction…. Reading Hot Season is a trip to who we all used to be and might provide some insight on just who exactly we are now."
"Forsaking savvy precociousness in favor of off-putting credulity is a calculated risk that pays dividends as Katie incrementally transforms from a culturally expropriating green-horn to the mohawked eco-warrior known only as 'K'….the reader can feel the electric thrum of the landscape, the region, and the natural world…she weaves an unconscious illusion into a dawning truth…that the land is alive and that it has reached us at last."
—Texas Books in Review
"She is carving a niche for herself among environmental novelists such as Margaret Atwood, Edward Abbey and Barbara Kingsolver."
—Amazon review
"DeFreitas gives us a moment on the timeline of our lives–when, over a four-year span, we grow from someone in search of an identity into fully formed humans with ideas, opinions, true friends and a wisdom often gleaned from our own stupidity."
"Earth-shatteringly good…as if Donna Tartt had been edited by Gordon Lish. Hot Season is that wonderful mix of literary thoughtfulness and instinctual storytelling gifts."
"A brisk read with a potent mix of wit and edge."
"DeFreitas carries this laidback realism through Hot Season, from seemingly minor details that build her rich universe—the color of a sunset, the horrible white-people dreads of college manarchists, the yerba maté beside the soil science textbook—to the book's complicated, relatable women characters. (The men of Hot Season are refreshingly peripheral.) From unhappily coupled Jenna's fantasy of solo life on a ranch without men, to Rell's levelheaded attempt to balance her political ideals with the practical demands of her life, to Katie's dangerous attraction to self-mythologizing, Hot Season is really a book about women. It's a sad fact that in many activist movements, women and other marginalized people are often drowned out by swaggering white-guy hypocrisy. Here, they're given room to breathe, and watching their various sundry selves evolve is something I'm glad to have witnessed.
"Hot Season by Susan DeFreitas brings contemporary environmental activism into the literary vernacular at an interesting moment. ….the novel's saga of political tension surrounding commercial development chimes intriguingly with current news."
—Donna Miele, Rain Taxi
"Hot Season, Susan DeFreitas's finely wrought debut novel, explores the charged terrain where the youthful search for identity meets environmental activism and the romantic, illicit lure of direct action. A compelling book."
—Cari Luna, Oregon Book Award winner,
author of The Revolution of Every Day
"In Susan DeFreitas's riveting debut, the desert looms large over the dreams and desires of three friends contending with big questions — such as who to love, who to trust, and what to sacrifice for the greater good. A tale of youth, lust, and activism, Hot Season is a beguiling college novel in the tradition of The Secret History."
—Mo Daviau, author of Every Anxious Wave
"Susan DeFreitas's powerful, timely novel asks big questions—not only about water rights and the importance of riparian corridors in the West, but about what it means to fight for the natural world."
—Michaela Carter, author of Further
Out Than You Thought
"A beautiful book that asks the crucial question, is it worse to destroy a dam or to destroy a river? Which is to say, how do we live our conscience on a crowded, corrupted planet?"
—Monica Drake, author of The Stud Book
Portland Independent Publishing Resource Center (IPRC) Interview
Praise for Susan DeFreitas
"Terrific."
—Jess Walter, author of the #1 New York Times bestseller
Beautiful Ruins
"Irresistible—funny and whip smart and dead-on."
—David Long, author of The Inhabited World
OPB Radio on Susan's writing group, The Guttery
About the Author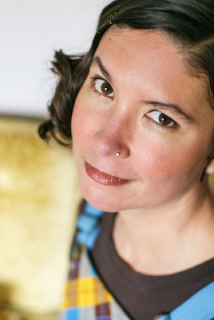 Susan DeFreitas's fiction, nonfiction, and poetry have appeared in The Utne Reader, Southwestern American Literature, The Nervous Breakdown, Story Magazine, and Fourth River, among other publications. DeFreitas lived in the high country of central Arizona, where Hot Season is set, for fourteen years, and covered topics related to the environment and green technology until 2009, when she moved to the Pacific Northwest. Melanie Bishop, writing for Huffington Post Books, called her "a spokesperson for our times."
Web site: http://susandefreitas.com/books/